---
Applies to versions: 1.3, 1.4, 1.5, 1.6
Web Access Logs
The Web Access Logs page displays all TimeIPS web pages accessed by any employee within the past 30 days.
Security Level Required: System Administrator

Using the left pane Main Menu, click on: System Administration » Web Access Logs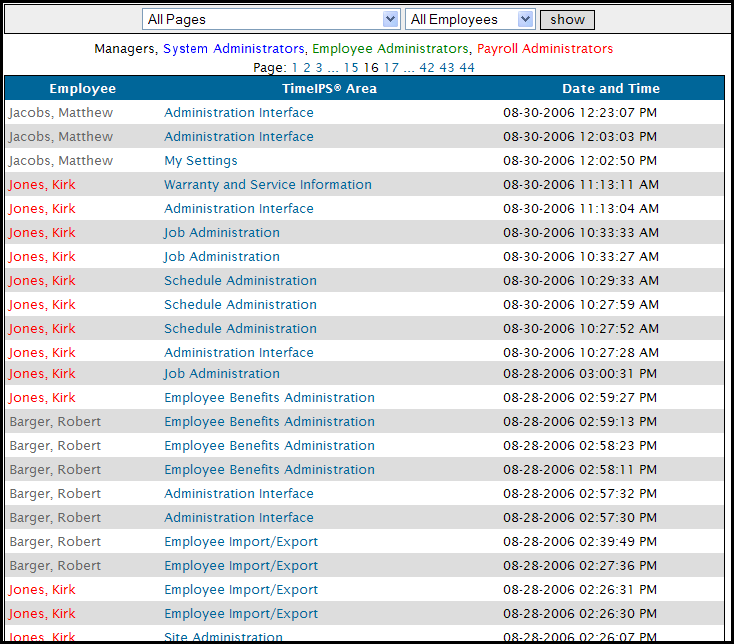 Web Access Logs Page
The default view provides details for all web pages viewed by any employee within the past 30 days.
You can also specify individual TimeIPS web pages and/or individual employees to display by using the drop-down boxes at the top of the screen and clicking on the Show button.
Employee names are shown in the color that corresponds with their highest permission level:

Managers
System Administrators
Employee Administrators
Payroll Administrators

In the TimeIPS Area column, clicking on any area shown in blue text will take you to that TimeIPS screen.
For multiple pages, click on the ... at the top of the list to display all hidden page numbers.
See Also:
TimeIPS Access Levels (1.3, 1.4, 1.5)
©2004-2019 TimeIPS, Inc. All Rights Reserved - TimeIPS and the TimeIPS logo are registered trademarks of TimeIPS, Inc.
"Intelligent Personnel System" "Run your Business. We'll watch the clock." are trademarks of TimeIPS, Inc.
TimeIPS is protected by one or more patents. Patent No. US 7,114.684 B2.