Additional information for large VGA Display (LCD or monitor):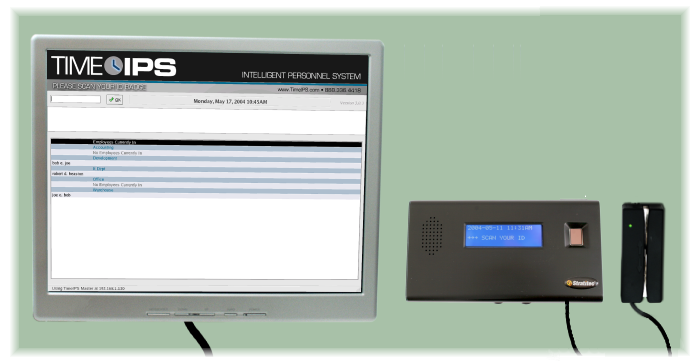 Any optionally connected VGA display, or "large display," operates at a fixed resolution of 1024x768. On LCD large displays (as shown above left) be sure to press the "auto" button after the TimeIPS station is running for the best display quality. Please note you can also use any standard VGA monitor, depending on your situation and display needs. If more cable length is required, use a high-quality VGA extension cable. See www.timeips.com for options.
A large display can be used to enlarge the contents of the TimeIPS LCD display or to show who is currently clocked in by department, as shown in the example installation above. Showing who is currently clocked in, the "Current In Employees" view, can be useful in identifying at a glance who is on the premises, to ensure employees have clocked out, and to determine jobs currently in progress.
NOTE: The "Who's Clocked-In" screen for large displays at clock-in/clock-out points is standard with every TimeIPS Intelligent Personnel System. In TimeIPS, navigate to Administration » System Administration » Modules/Upgrades to find out more about upgrading your TimeIPS Time and Attendance System with the IPSIPS Intelligent Personnel System module.
TimeIPS is designed to allow you to plug in a large display at any time. You do not need to turn off the power first when plugging in a Large display (see "Connect Components" Step 1 for instructions on connecting an optional VGA monitor). You do not need to disconnect the small LCD display in order to connect a large display. Both will work at the same time.