---
Applies to versions: 1.3, 1.4, 1.5, 1.6
View Job History
Employees can view their own job history for any date range and delete flexible job entries that are in error.
Security Level Required: Login Access (defined Username and Password)

Using the left pane Main Menu, click on: View Job History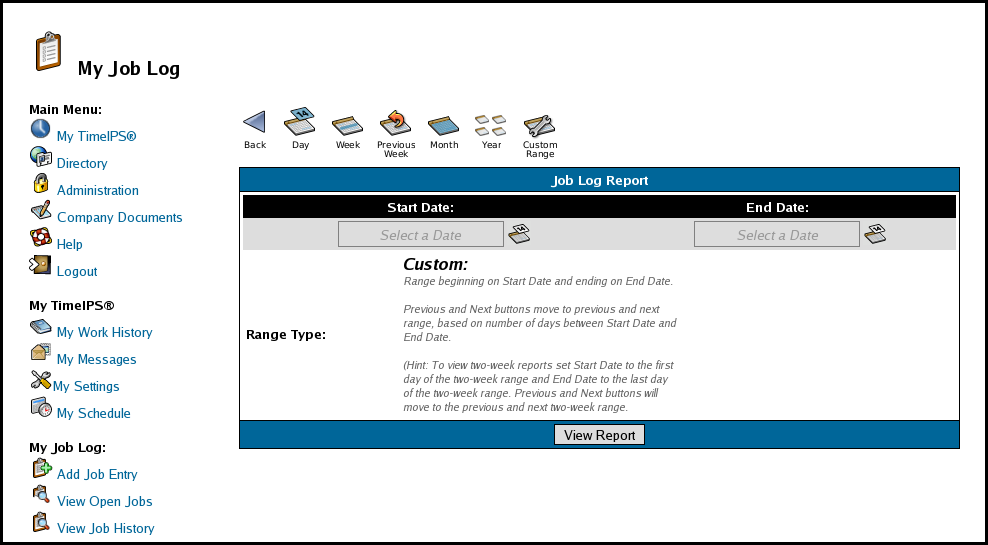 The Job Log Report Page
Click on a date range icon at the top of the screen (Day, Week, Previous Week, Month, or Year)
- OR - Select a Custom Range by selecting the Start Date and End Date using the calendar icon to the right of each field.
Click on the View Report button.



The Employee's Job Log Entries Page
See Also:
Viewing My Open Jobs (1.3, 1.4, 1.5, 1.6)
Add a Job Entry (1.3, 1.4, 1.5, 1.6)
Add/Edit Jobs (1.3, 1.4)
©2004-2018 TimeIPS, Inc. All Rights Reserved - TimeIPS and the TimeIPS logo are registered trademarks of TimeIPS, Inc.
"Intelligent Personnel System" "Run your Business. We'll watch the clock." are trademarks of TimeIPS, Inc.
TimeIPS is protected by one or more patents. Patent No. US 7,114.684 B2.