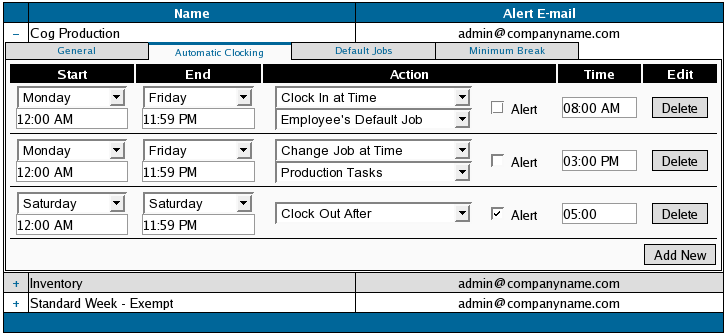 Example #1: Automatic Clocking Rules
EXAMPLE #1: In the example above, "Cog Production", employees are automatically clocked into their default job, as assigned on the
Employment tab in Employee Administration
, at 8:00am on Monday through Friday. They can manually clock out and back in from lunch, but will be automatically changed to the "Production Tasks" job at 3:00pm Monday through Friday. On Saturday's, employees in this schedule group will be automatically clocked out 5 hours after they clock in and an alert e-mail will be sent to the alert e-mail address.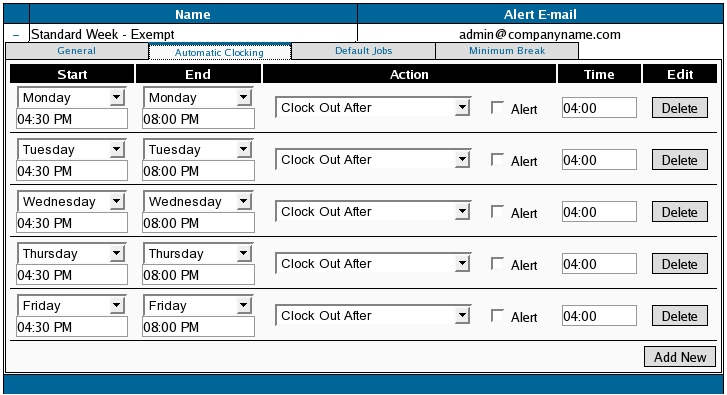 Example #2: Automatic Clocking Rules
EXAMPLE 2: In the example above, "Standard Week - Exempt", salaried employees are clocked out automatically after 4 hours beginning at 4:30pm through 8:00pm, Monday through Friday. So if Employee A clocked in at 2:00pm from lunch but forgot to clock out, he/she would be automatically clocked out after 4 hours, or at 6:00pm.