Applies to versions: 1.5
Manual Payroll Export Settings
TimeIPS Payroll Export can generate a file with your payroll data. The file can be opened in a spreadsheet application, such as Microsoft Excel or Open Office. Using the

Payroll Integration with Benefits Tracking (IPSQBI) optional module, the file can be imported in your payroll application.
Security Level Required: Payroll Administrator

Using the left pane Main Menu, click on: Administration » Payroll and Reports » Payroll Export
Step 2: Configure Export
Before you export:
After selecting your export contents (date range, employees and export format), click on the Continue to Step 2 --> button.





The first time you run a payroll export, you will be asked to provide a "preset", or template, for your export. Click on the Add Preset button to configure your payroll preset.
- OR -
If you already have a defined preset you wish to use, select the preset name from the Export Settings pull-down, then skip to Step 4.





NOTE: A Preset is a set of stored settings that are used each time a payroll file is generated. If your settings change from one group of employees to another, you may create multiple presets and select the preset that applies for the group you are exporting at the time.
Your preset options are:

Preset Name: Enter a descriptive name for your preset
Include column headers: Uncheck this box to remove column headers from your export file
Summarize each employee's work hours: Check this box to summarize each employee's work hours
Line Terminator: Choose your desired option from the drop-down box. Your options are "Windows (CR/LF)", "Macintosh (CR)" or "Unix (LF)".
Delimiter: Enter your desired field delimiter
Date Format: Choose the date format from the drop-down box. Your options are "YYYY-MM-DD", "MM-DD-YYYY", "DD-MM-YYYY", "YYYYMMDD", "MMDDYYYY", or "DDMMYYYY"
Name Format: Choose your preferred name format from the drop-down box. Your options are "Last, First Middle", "First Middle Last", or "Split Columns"
Click on Save Settings to save, or Cancel to exit without saving.
(Optional) Enter a descriptive Comment to assist in differentiating past and future payroll runs.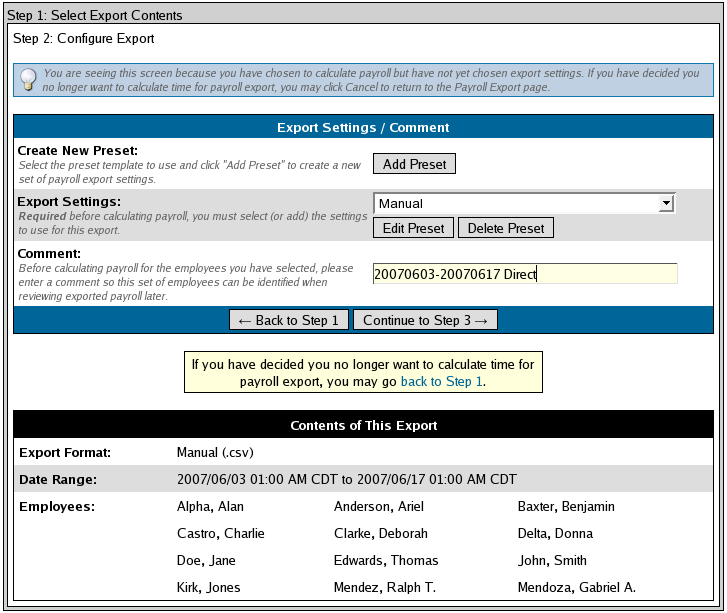 NOTE: If you decide not to calculate time for your payroll export at this time, click on "<-- Back to Step 1"
Once you are ready to calculate payroll, click on the Continue to Step 3 --> button. TimeIPS will calculate your payroll and generate the export file based on the settings in the selected Preset.


Once payroll has been calculated, your screen will refresh back to Step 1 and you will see your pending export at the bottom of the screen. Click on Mark Paid to examine your export file and/or to export the file into your payroll application.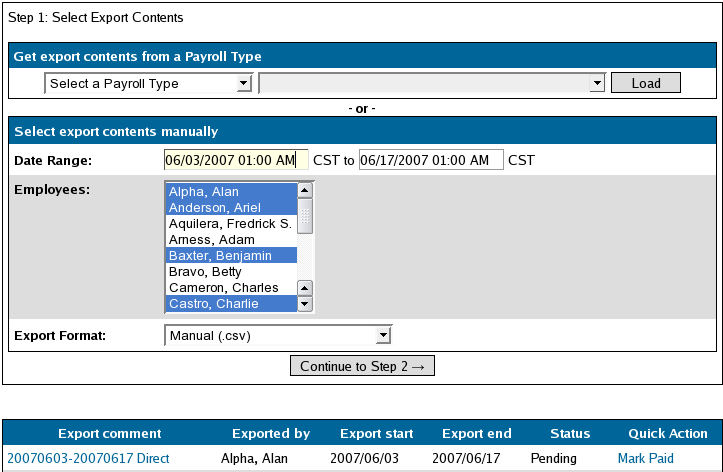 ---
NOTE: TimeIPS locks the selected payroll events from editing while the payroll is in Pending status. This prevents employees from adjusting time events that are being processed for payroll.

---
Click on the file name link (manual-payroll-Jun-03-2007-1183925958.csv in the example below) to view the contents of the export in a spreadsheet application such as Excel or OpenOffice Calc. Once you have confirmed that the contents have exported correctly, click on Yes, the export was accepted to import the file into your payroll software, or click the <-- Cancel button to return to Step 1.


---
NOTE: Once your transactions have been payrolled, TimeIPS will lock the time events from future edits.

---
With the default settings, the following fields will be exported:
Employee Name
SSN
Alt. Employee Number
Department
Hourly
Work Day Starting On
Hours
Pay Type
Pay Rate
Total Pay
Notes
When your payroll has been successfully imported into your payroll software, the screen will refresh and you will see that the "Mark Paid" status has changed to Payrolled.


As you continue to export payroll, TimeIPS will maintain a list of all of your payroll exports. The latest export will always be at the top of this list.

See Also:
Payroll Export (TimeIPS Version 1.5) (1.5)
Was this article relevant to your question?
Yes
No