---
Applies to versions: 1.8, 1.9, 1.10
Global Schedule Settings
Global Schedule settings control a number of schedule options including if schedules are repeating.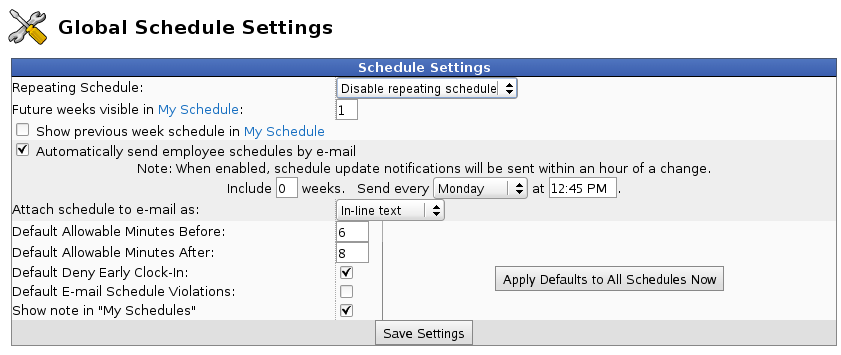 To use repeating schedules, select a repeat period from "Repeating Schedule" drop down.
To allow employees to see schedules into the future, enter a positive number of weeks in the "Future weeks visible in My Schedule."
To allow employee to see previous weeks in My Schedule, check the box next to "Show previous week schedule in My Schedule."
Employees can receive emails with their upcoming schedule automatically. Select the "Automatically send employee schedules by e-mail" option and configure a number of weeks and a day and time to send the email. Ideally, the email would be sent after the schedule for the coming week is finalized.
When importing schedules, allowable minutes before/after, deny early clock-in and email on violations can be left out of the import file. In cases when these are left out, TimeIPS will use the defaults set here to fill in the values.
If you've made a change to the default values, and would like them to apply to all existing schedules, Save Settings, then click the "Apply Defaults to All Schedules Now" button.
©2004-2019 TimeIPS, Inc. All Rights Reserved - TimeIPS and the TimeIPS logo are registered trademarks of TimeIPS, Inc.
"Intelligent Personnel System" "Run your Business. We'll watch the clock." are trademarks of TimeIPS, Inc.
TimeIPS is protected by one or more patents. Patent No. US 7,114.684 B2.