---
Applies to versions: 1.6, 1.8, 1.9, 1.10, 1.11
Dial-up Options
The Dialup Options allows you to connect to TimeIPS via a dial-up connection. This can be used to do updates or set your system on remote service. An external hardware modem is required along with a dial-up internet account with an ISP.
Security Level Required: System Administrator


Using the left pane Main Menu, click on: Administration » System Administration » System Settings
Scroll to the bottom of the page and click on: Manage dial-up connectivity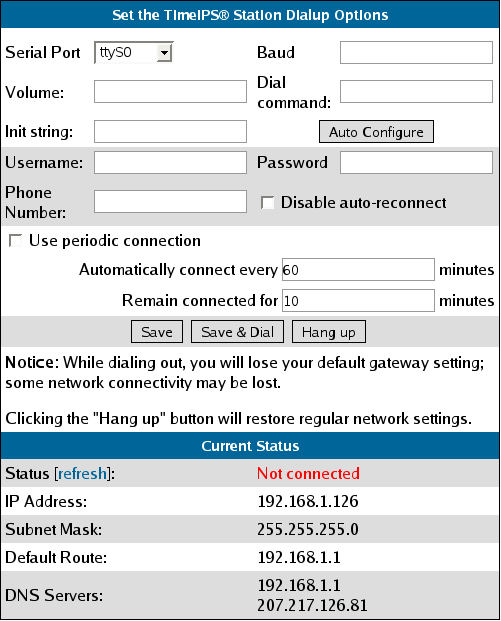 Make sure the modem is connected and turned on.
Type in the Username: and Password that has been provided by your ISP.
If necessary, type atd in the Dial command: field.
Click on theSave button.
To connect to your ISP click on Save & Dial button.
Once finished with the connection click on the Hang up button.


New for Version 1.6
Dial-Up modem users now have the option of setting a periodic connection.
Click the Use Periodic Connection box to enable this feature
Enter the cycle time in minutes that you want your system to connect in the Automatically connect every ____ minutes box.
Enter the number of minutes during this cycle that you want your system to stay connected in the Remain connected for ____ minutes box.
Lastly, choose the option to
Save, Save & Dial
or
Hang Up
.
See Also:
Dial-up Hardware options (1.8, 1.9, 1.10, 1.11)
©2004-2018 TimeIPS, Inc. All Rights Reserved - TimeIPS and the TimeIPS logo are registered trademarks of TimeIPS, Inc.
"Intelligent Personnel System" "Run your Business. We'll watch the clock." are trademarks of TimeIPS, Inc.
TimeIPS is protected by one or more patents. Patent No. US 7,114.684 B2.