---
Employee Management
Employee Management is where employees are entered into TimeIPS and their information is maintained.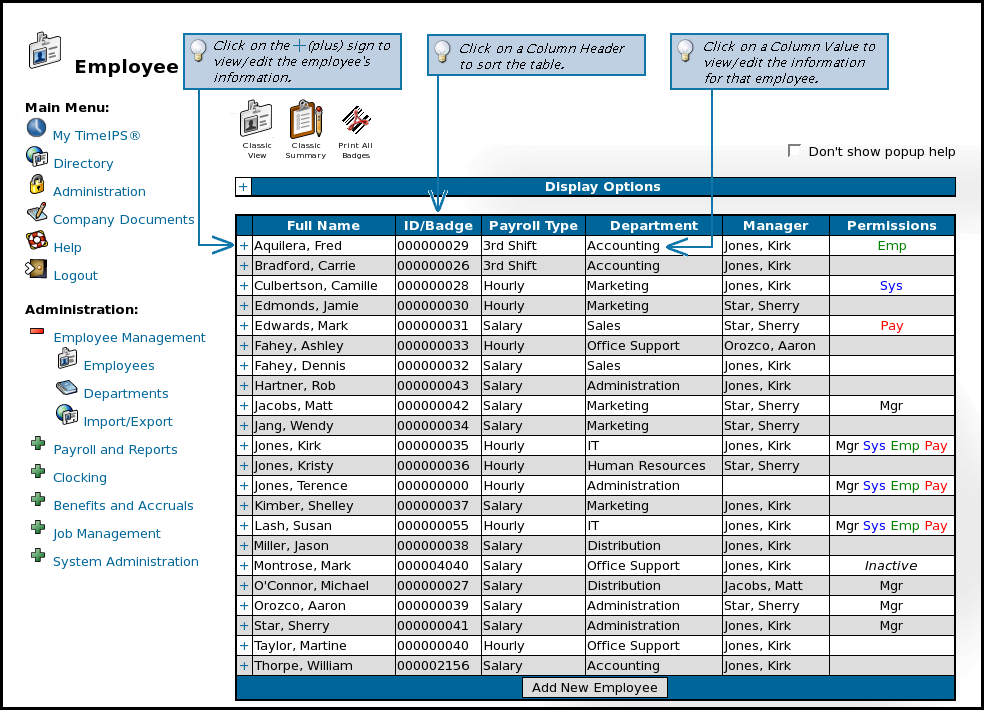 The Employee Administration Page
Click on the + (plus) sign to the left of the employee's name to view/edit details.

Click on the column header (Full Name, ID/Badge, etc) to sort the table by the selected column values.

Click on a column value (such as an Employee's Name, ID/Badge number, etc) to quickly access that detailed information for the employee.

Employee Information can be imported from and exported to a spreadsheet program using the Employee Import/Export optional module.
See Also:
Add New Employees/Edit Employee Information
Employee Management Display Options
Define Departments
Import/Export Employee Information
Classic View - Employee Management
Classic View - Employee Summary and Permissions
©2004-2017 TimeIPS, Inc. All Rights Reserved - TimeIPS and the TimeIPS logo are registered trademarks of TimeIPS, Inc.
"Intelligent Personnel System" "Run your Business. We'll watch the clock." are trademarks of TimeIPS, Inc.
TimeIPS is protected by one or more patents. Patent No. US 7,114.684 B2.