---
Applies to versions: 1.8, 1.9
Absentee Report
Version 1.6.32 and previous.
The Absentee Report summarizes attendance of your employees during a calendar week. Shows either "Absent" or total hours worked on the calendar day.
Security Level Required: Manger, Employee Administrator, or Payroll Administrator

Using the left pane Main Menu, click on: Administration » Payroll and Reports » Special Reports » Absentee Report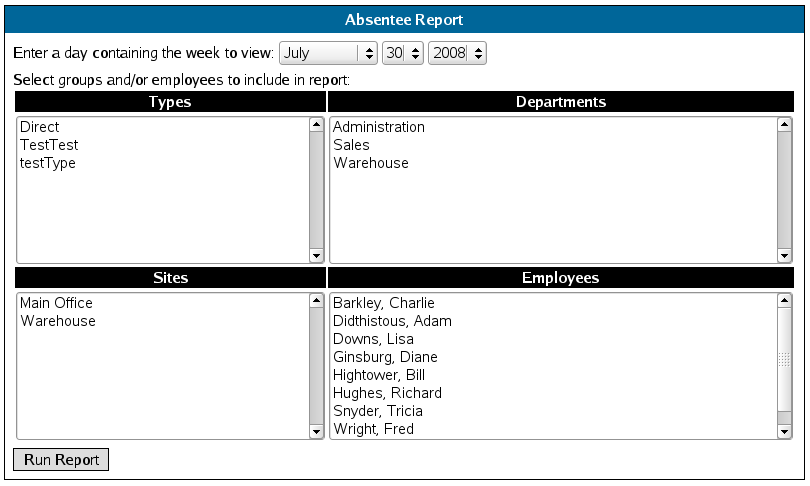 The Absentee Report Selection Screen
Enter a day containing the week to view from the drop-down boxes.

NOTE: The report will always begin with Monday and end with Sunday.

Select groups and/or employees to include in the report from the Types, Departments, Sites, and/or Employees section.

NOTE: Choosing from more than one area will display all associated employees. For instance, selecting "3rd Shift" from Types and "Accounting" from Departments will give you all employees that are in the 3rd Shift payroll type AND all employees that are in the Accounting department, not just all employees in the Accounting Department who also work 3rd Shift.

TIP: Select a group of employees by clicking on their names while holding down the CTRL key.

Click on the Run Report button.

TIP: You can easily scroll through different weeks by using the Prev Week and Next Week links at the left and right of the date range.

NOTE: To return to the Special Reports page and run the Absentee Report again, click on the Special Reports option on the left pane main menu then select the Absentee Report link.


The Absentee Report
NOTE: Time Worked displays as decimal hours, rounded to the 2nd decimal place. Minutes are converted to decimal hours by dividing the minutes worked by 60.

NOTE: An asterisk next to the hours worked on the Absentee Report indicates that the employee used that amount of benefits hours (such as sick, vacation, etc.) on that day.

For Version 1.6:
©2004-2018 TimeIPS, Inc. All Rights Reserved - TimeIPS and the TimeIPS logo are registered trademarks of TimeIPS, Inc.
"Intelligent Personnel System" "Run your Business. We'll watch the clock." are trademarks of TimeIPS, Inc.
TimeIPS is protected by one or more patents. Patent No. US 7,114.684 B2.