---
Applies to versions: 1.6
Clocked-In/Currently In Employees
The Currently In Employees page displays all employees by department that are currently clocked in. This view can be used to determine if an employee is present at any given time and to ensure that all employees clock out at the end of the shift.
Security Level Required: Employee (Login Access), Manager, System Administrator, Employee Administrator, or Payroll Administrator

Using the left pane Main Menu, click on: Directory » Clocked-In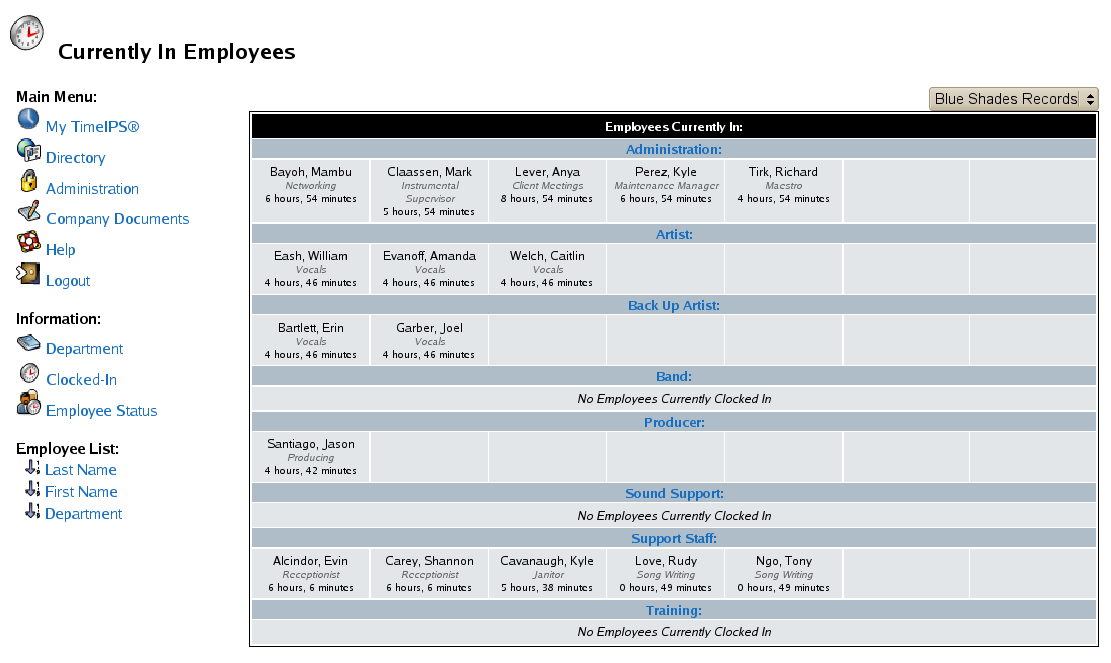 The Currently In Employees Page
See Also:
Require Login Access to View the Directory (1.4, 1.5, 1.6)
Adjust Draw Employee List Settings (1.3, 1.4, 1.5, 1.6)
Employee Status View (1.4, 1.5, 1.6)
Modules/Upgrades (1.3, 1.4, 1.5, 1.6)
©2004-2019 TimeIPS, Inc. All Rights Reserved - TimeIPS and the TimeIPS logo are registered trademarks of TimeIPS, Inc.
"Intelligent Personnel System" "Run your Business. We'll watch the clock." are trademarks of TimeIPS, Inc.
TimeIPS is protected by one or more patents. Patent No. US 7,114.684 B2.