Applies to versions: 1.8, 1.9, 1.10
Enterprise Permissions
The TimeIPS Enterprise Permission module is designed for companies that need to delegate responsibility and carefully control access within TimeIPS.
The TimeIPS Enterprise Permissions module provides the following features:
Ability to create and manage permission groups that grant access or control over user-selectable groups of items.
The items that can be controlled are virtually everything in TimeIPS. For example: employees, jobs, departments, employee pay rate, job codes, work orders, etc.
The access or control levels include viewing, creating, deleting, and editing.
Which items have access or control can all be based on the item being managed by you, being in your department, being in a site you manage, being in your division, being in a division you manage, etc.
Employees can be assigned to one or more permissions groups. Thus, each employee will get the sum of all permissions granted by all groups assigned to them.
Permission Groups
Configure Permissions by going to Administration -> Employee Management -> Permissions.

Each Permission Group includes a set of permission options. These options can be viewed by clicking the + next to the names and viewing the entries within them. Some areas have several levels of options, indicated by additional + signs when you open the first level.
Employees can belong to zero or many groups. Each group is allowed access to various actions and information. An employee who belongs to a group assumes all those permissions, and an employee who belongs to multiple groups will collect permissions from all the groups to which he belongs.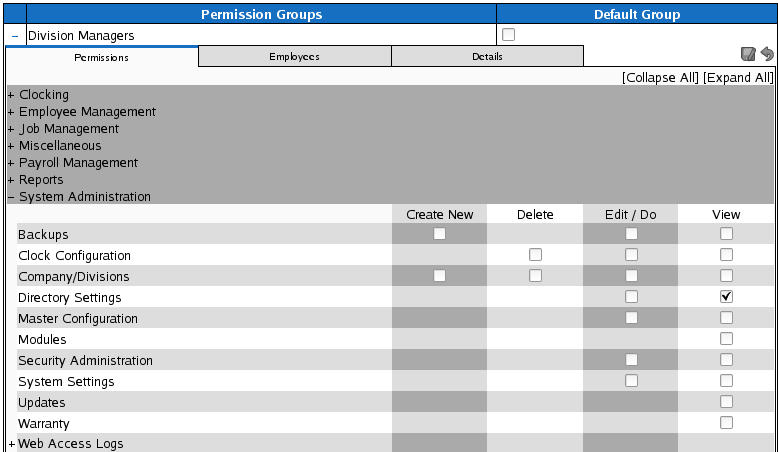 To give employees additional permissions, click the "Employees" tab and add the employee to the Permission Group. Employees can belong to as many permission groups as needed to give them all the permissions necessary. Permission Group membership can also be managed on the Administrative tab of the Employee Management page.

Audit
The Audit icon provides a way to see what employees can do, and which employees can do specific things. Examples:
To see everything that a certain employee can do, select them in the "Who:" option and click "Submit." The list of everything that employee can do will be listed below.
To see everyone who can create backups, select "create" under "Can:" and "backups" under "What:" and click "Submit." The list will show who can create backups.
To see everyone who can work with badges, select "badges" in the "What:" option and click "Submit." The list will show who can produce badges, and for who.
To use the "For:" selection list on the right, select a value for "Who:" and "Can:" and "What:" The list will show who can do what for the selected empolyees.
Field Permissions
The Field Permissions icon provides a way to control which permission option is used for specific fields, primarily in the employee database tables. In most cases, no changes will be needed to these permissions. In some cases, however, it may beneficial to include specific employee fields in different permission options. For example, an employee's birthday is normally assigned to the employee-personal-info permission option. If you needed to keep birthdays more confidential, you might change it to the employee-pay-rate option. This way, only employees with pay-rate viewing ability could see an employee's birthday.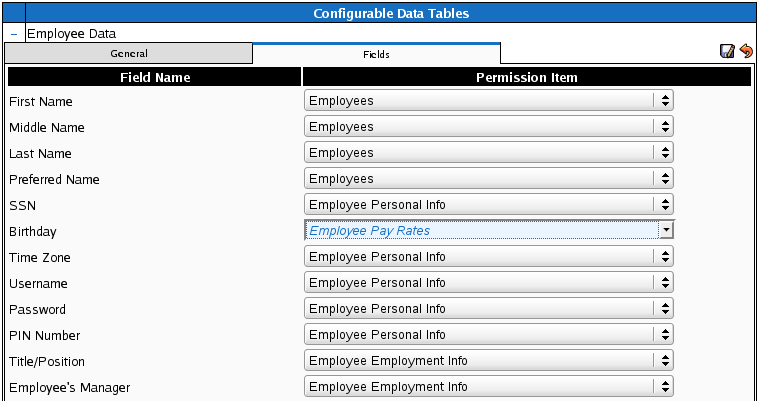 Note: Requires TimeIPS version 1.6.33 or later.