---
Applies to versions: 1.3
Employee - Personal Information
Employee's identifying information and username and password are stored on the Personal Information page.
Security Level Required: Employee Administrator or Payroll Administrator
Using the left pane Main Menu, click on: Administration - Employee Management - Employees - Classic View icon.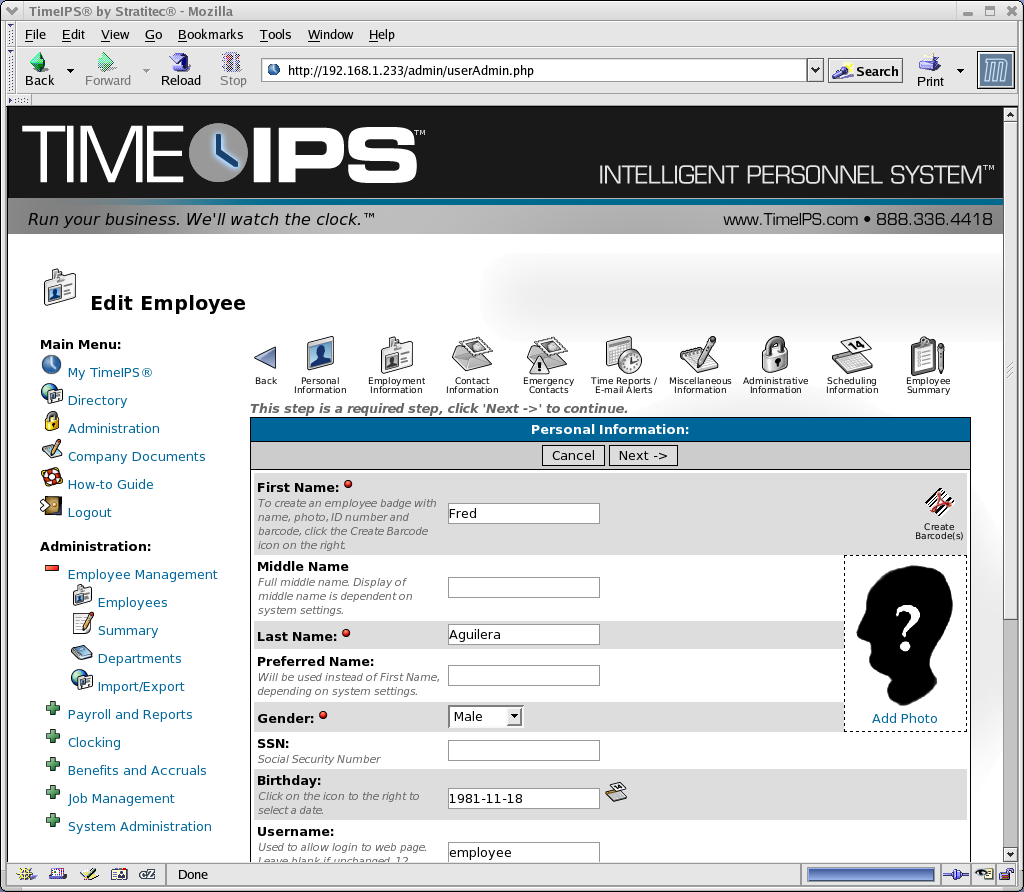 The Personal Information Section
If using QuickBooks integration, enter the Middle Name or initial consistently. QuickBooks stores up to 5 characters of the middle name. When setting up TimeIPS to integrate with QuickBooks, you will define the number of characters (1-5) to use for the middle name.


The Username and Password fields are not required for the employee to clock in or clock out. They are required for employees to view or edit information in TimeIPS. See the TimeIPS Access Levels for more information security levels. The Username must be 1-12 characters the Password must be 6-16 characters in length. Both the Username and Password are case sensitive. When setting up the Username and Password for an employee, you must enter the same Password (again) for verification. The Employee Administrator or Payroll Administrator can adjust an employee's password by editing the employee's record and entering a new password.


Employee Information can be exported into a spreadsheet program using the Employee Import/Export optional module.


You can print an individual employee's barcode badge by clicking on the Create Barcode link above the employee's picture. You can use the Create Employees Barcode(s) feature to print all employee badges. Use the See Also link below for more information.
See Also:
Tabbed Employee Administration View (1.3, 1.4)
©2004-2019 TimeIPS, Inc. All Rights Reserved - TimeIPS and the TimeIPS logo are registered trademarks of TimeIPS, Inc.
"Intelligent Personnel System" "Run your Business. We'll watch the clock." are trademarks of TimeIPS, Inc.
TimeIPS is protected by one or more patents. Patent No. US 7,114.684 B2.