---
Applies to versions: 1.3
Employee - Employment Information
Employee pay rates, manager, start date, employee identification number, and other employment related fields are stored in the Employment Information page.
Security Level Required: Employee Administrator or Payroll Administrator
Using the left pane Main Menu, click on: Administration - Employee Management - Employees - Classic View icon.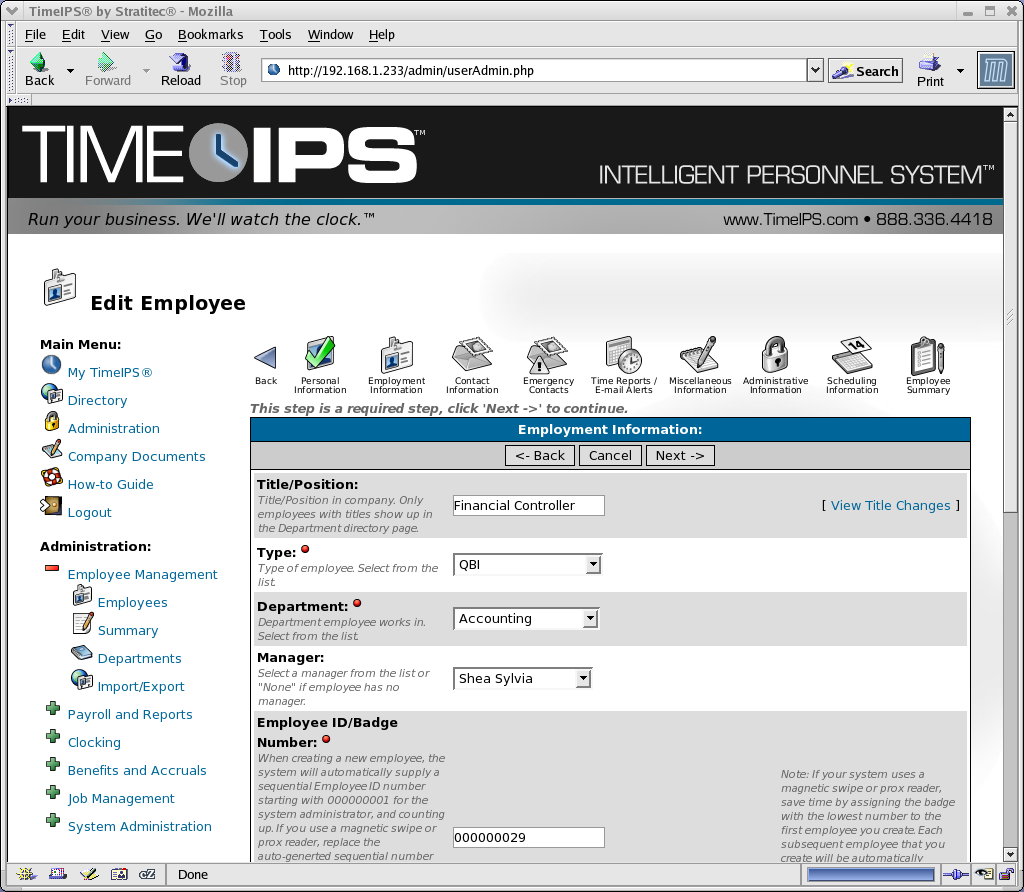 The Employment Information Section
TimeIPS uses Types to group employees with the same payroll period. Payroll will be run once for each Type. Time Reports and Special Reports may be viewed by Type.


TimeIPS uses Departments to designate employee groups in the Directory and on the Currently In Employees view. The employee's Department is included on most exported reports for sorting purposes.


To add a manager to the Manager pull-down, add the employee into TimeIPS and assign them Manager security on the Administrative Information page.


The Employee ID/Badge Number is 1-9 digits. The employee will either key this number into the key pad or swipe, scan, or touch the corresponding badge/device through a reader to clock in and out. The Employee ID/Badge Number displays numbers with leading zeros to 9 digits. When using a key pad to clock in/out, the employee will simply enter their number (without the leading zeros). For example: the ID number is 371 and is entered as such. TimeIPS displays the number as 000000371. The employee will clock in and out by typing 371 (not 000000371) and pressing ENTER on the keypad.


The Alt. Employee Number is an optional tracking number that is included on some reports and payroll exports for internal use. Enter the Volt or ADP employee identification number if using either of those Payroll Exports.


TimeIPS uses the Start Date to determine benefit accruals when using the Accruals feature. See Quick Books Integration with Benefits Tracking optional module for more information.


The Employee's Manager and the Payroll Administrator can view the employee's Pay Rate. No other administrative level can view this information.


Employee related documents such as job applications, W-2's, and contracts can be attached to an employee's record. You must submit a new employee's information before attaching Documents to the employee's record.


Employee Information can be exported into a spreadsheet program using the Employee Import/Export optional module.
See Also:
Tabbed Employee Administration View (1.3, 1.4)
Import/Export Employee Information (1.3, 1.4, 1.5, 1.6)
Employee Pages (1.3, 1.4)
Modules/Upgrades (1.3, 1.4, 1.5, 1.6)
Define Departments (1.3, 1.4, 1.5, 1.6)
Define Payroll Types (1.3, 1.4, 1.5)
Clock In/Out (1.3, 1.4, 1.5)
Adjust Accrual Rates (1.3, 1.4)
Enter Benefit Usage (1.3, 1.4)
©2004-2018 TimeIPS, Inc. All Rights Reserved - TimeIPS and the TimeIPS logo are registered trademarks of TimeIPS, Inc.
"Intelligent Personnel System" "Run your Business. We'll watch the clock." are trademarks of TimeIPS, Inc.
TimeIPS is protected by one or more patents. Patent No. US 7,114.684 B2.