---
Applies to versions: 1.6
Directory
The Directory allows all employees to view general company and employee information. As well, employees can view, in real-time, who is currently clocked in.
The Company information includes general information about your company and can be customized using HTML tags.
Security Level Required: Employee (Login Access), Manager, System Administrator, Employee Administrator, or Payroll Administrator
Directory viewing options are set in the Directory Options section of the Company/Divisions page
Using the left pane Main Menu, click on: Administration » System Administration » Company/Divisions » Directory Options

The Change Directory Options page allows you to customize the information available in the directory with HTML formatting.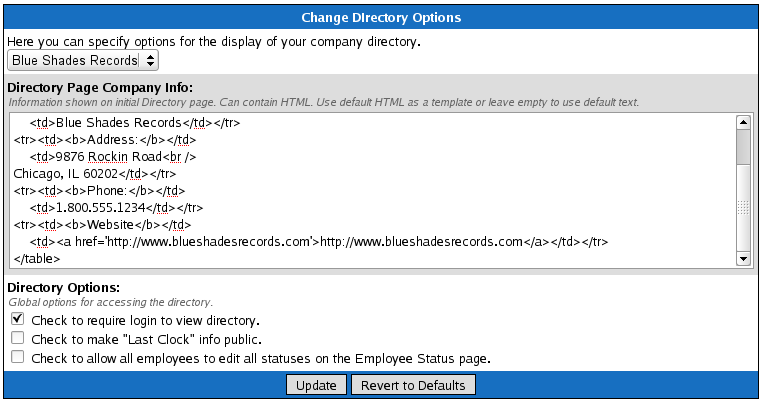 Go to Entering Company Information for help with formatting your Directory.
Using the left pane Main Menu, click on: Directory
Once formatted, your Company Information will appear on the Directory page.

See Also:
Adjust Employee Information for the Directory (1.3, 1.4, 1.5, 1.6)
©2004-2018 TimeIPS, Inc. All Rights Reserved - TimeIPS and the TimeIPS logo are registered trademarks of TimeIPS, Inc.
"Intelligent Personnel System" "Run your Business. We'll watch the clock." are trademarks of TimeIPS, Inc.
TimeIPS is protected by one or more patents. Patent No. US 7,114.684 B2.