---
Applies to versions: 1.3
Employee - Contact Information
The Employee's Contact information is optional but recommended to store and quickly retrieve employee information.
Security Level Required: Employee Administrator or Payroll Administrator
Using the left pane Main Menu, click on: Administration - Employee Management - Employees - Classic View.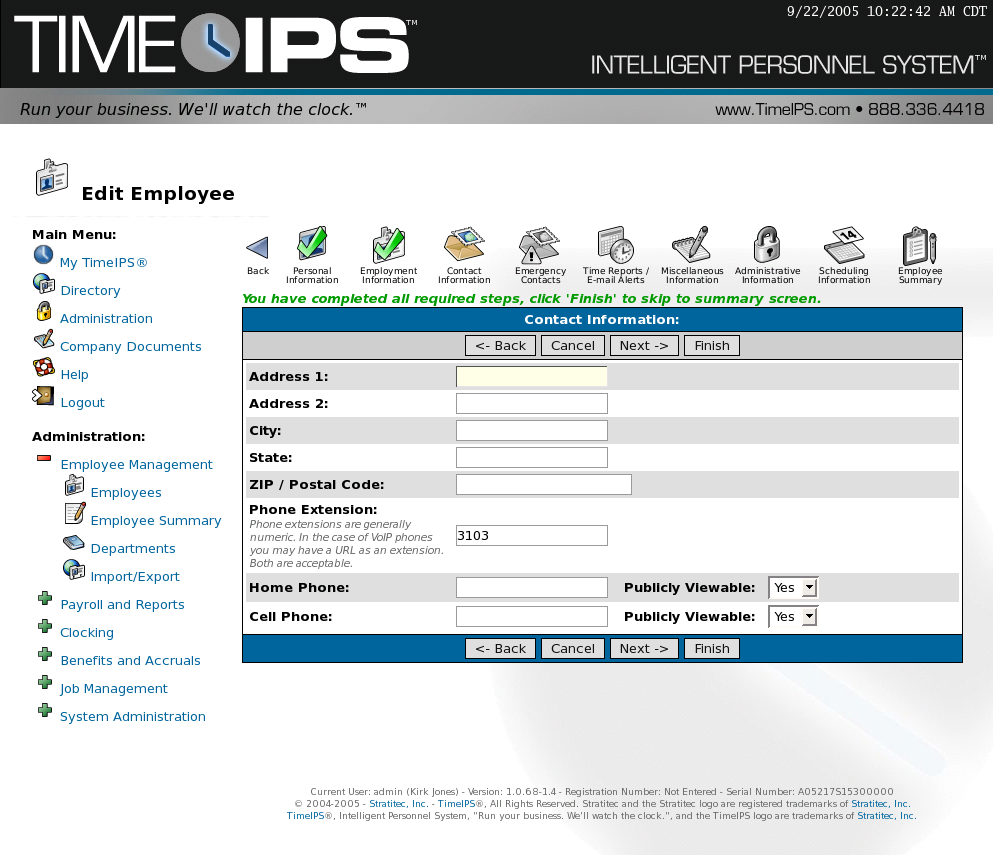 The Employee Contact Information Section
Phone Numbers must be entered in the format: XXX.XXX.XXXX, XXX-XXX-XXXX, or (XXX) XXX-XXX


If marked Publicly Viewable, the phone number(s) display in the Employee Directory.


Employee Information can be exported into a spreadsheet program using the Employee Import/Export optional module.
See Also:
Tabbed Employee Administration View (1.3, 1.4)
Import/Export Employee Information (1.3, 1.4, 1.5, 1.6)
Employee Pages (1.3, 1.4)
Modules/Upgrades (1.3, 1.4, 1.5, 1.6)
View the Employee Directory (1.3, 1.4, 1.5)
©2004-2019 TimeIPS, Inc. All Rights Reserved - TimeIPS and the TimeIPS logo are registered trademarks of TimeIPS, Inc.
"Intelligent Personnel System" "Run your Business. We'll watch the clock." are trademarks of TimeIPS, Inc.
TimeIPS is protected by one or more patents. Patent No. US 7,114.684 B2.