---
Applies to versions: 1.8, 1.9, 1.10
My Schedule
Employees can view their weekly work schedule.
Security Level Required: Employee (Login Access), Manager, System Administrator, Employee Administrator or Payroll Administrator

Using the left pane click on: My Schedule under My TimeIPS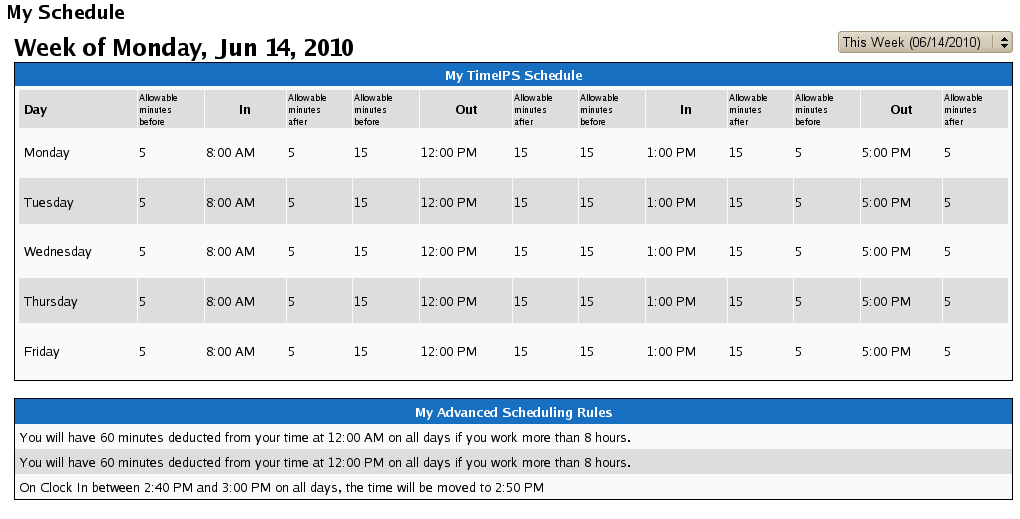 The My Schedule Page
The Allowable minutes before and after the Clock In, Lunch Out, Lunch In, and Clock Out events are listed. The schedule may or may not be set for e-mail notifications and/or enforcements.

The employee's manager, an Employee Administrator, or a Payroll Administrator can adjust the employee's schedule through the Employees section.

The My Advanced Scheduling Rules display if scheduling rules such as time rounding, automatic lunch deductions, or time snaps (such as shown in the image below) are set for the employee using the optional Scheduling module.





©2004-2019 TimeIPS, Inc. All Rights Reserved - TimeIPS and the TimeIPS logo are registered trademarks of TimeIPS, Inc.
"Intelligent Personnel System" "Run your Business. We'll watch the clock." are trademarks of TimeIPS, Inc.
TimeIPS is protected by one or more patents. Patent No. US 7,114.684 B2.