---
Applies to versions: 1.8, 1.9, 1.10
Adding a Company Logo to Employee Barcode Badges
Your Company logo can be uploaded to TimeIPS then printed on employee badges.
Using the left pane Main Menu, click on: Administration » System » Company/Divisions » Open the + Next to your Company's Division » Division Settings Tab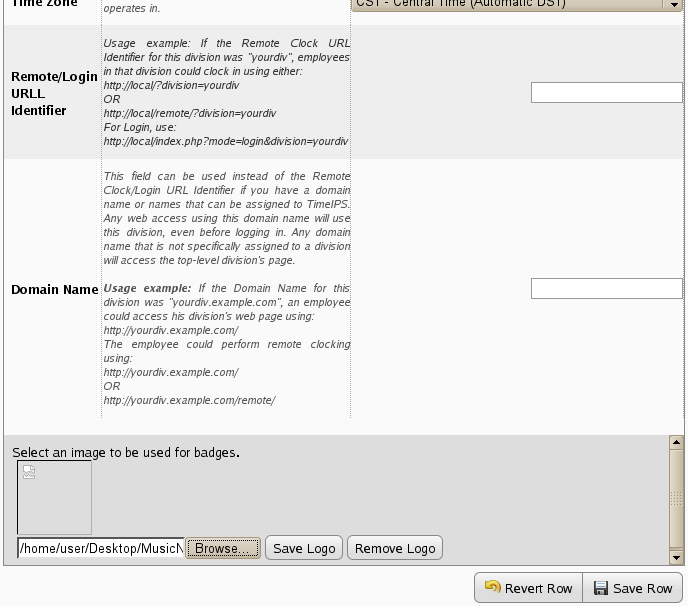 Add Logo
Click on the Browse button for the Company Logo at the bottom of the Division Settings page.

Navigate to your company logo file and click on the Open button.

NOTE: GIF, JPG, or PNG images files can be uploaded. Large images will be scaled to fit the employee's badge. The suggested size for a company logo on a badge is a 5 x 1 ratio. The actual size of the file used in the example is 591 X 112.

Click on the Save Logo button. The company logo will upload and display.





Company Logo




NOTE: To remove the logo and use the default TimeIPS logo, click on the "Remove logo" button.

Once your company logo has been added to the TimeIPS Master Configuration, it will print on your employee barcode ID badges.
©2004-2019 TimeIPS, Inc. All Rights Reserved - TimeIPS and the TimeIPS logo are registered trademarks of TimeIPS, Inc.
"Intelligent Personnel System" "Run your Business. We'll watch the clock." are trademarks of TimeIPS, Inc.
TimeIPS is protected by one or more patents. Patent No. US 7,114.684 B2.