---
Applies to versions: 1.8, 1.9, 1.10, 1.11
Attendance Percentage Report
Attendance Percentage Report
Using the left pane Main Menu, click on: Reports -> Special Reports -> Attendance Percentage Report
The Attendance Percentage Report provides a quick way to see time employees have worked vs the time they were scheduled. For the calculation, time worked during a lunch break adds to the total hours, allowing percentages over 100%. Time worked outside the schedule is excluded, so an employee could be scheduled for 8 hours (8am to 4pm) and works 8 hours (9am to 5pm) would NOT have 100% coverage, because of the missing hour (8am to 9am).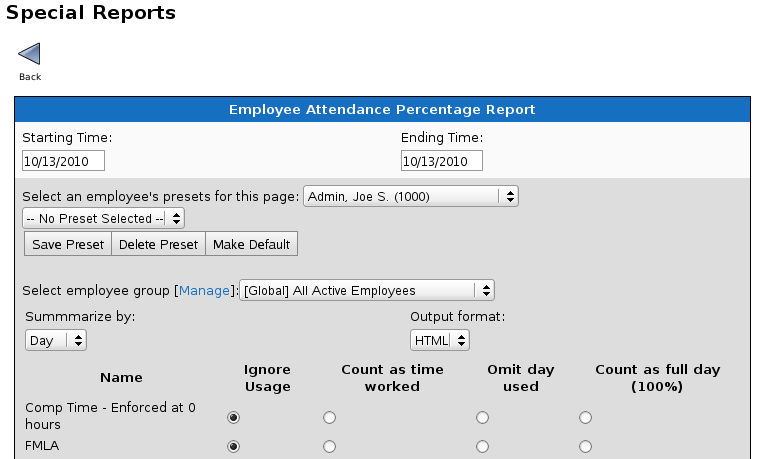 ©2004-2019 TimeIPS, Inc. All Rights Reserved - TimeIPS and the TimeIPS logo are registered trademarks of TimeIPS, Inc.
"Intelligent Personnel System" "Run your Business. We'll watch the clock." are trademarks of TimeIPS, Inc.
TimeIPS is protected by one or more patents. Patent No. US 7,114.684 B2.