Applies to versions: 1.8, 1.9, 1.10
Site Management
The TimeIPS Site Management module allows designation of sites, each with specified employees, managers, supervisors, coverage schedules, jobs, clocks and disconnection handling.
Access Sites under Employees -> Sites



Site Information

The Information tab allows basic configuration of the site, including the Site Manager. The abilities of the Site Manager are controlled by the permission system and can be customized if needed by using the IPSPRM permissions module.


Site Clocks

The Clocks tab allows assigning a clock to the site. If the clock assigned to a site is down, use the Technical Alert E-mail address to specify who should get alerts if t he clock or networking at the site are down. To add a clock to the site, click on the name of the clock in the box on the left, then click the blue arrow pointing to the right. To remove a clock from the site, click on the name of the clock in the box on the right, then click the blue arrow pointing to the left. If you have multiple divisions, you may need to assign the clock to the division of the site for it to show in either box. Do this on the Clocking -> Clock Configuration page, under the General tab of the clock.


Site Employees

The Employees tab allows configuring which employees belong to the site. Employees can belong to multiple sites.


Site Telephone

The Telephone tab allows configuring selected telephone clocking devices and/or CallerID names/numbers to the site.


Site Coverage

The Site Coverage tab allows configuring ranges of time when an expected number of employees should be working the site. Alerts can be sent when too few or too many employees are working. The Grace Period allows a few minutes for employees to start working and finish working without triggering a coverage email alert.

Site IP Addresses

The IP Address tab allows selected IP addresses to be connected to the site when employees are remote/web clocking.

Site Jobs
Specific jobs can be connected to a site, and only those jobs will be available, if the "Allow Use of: Only These Jobs" options is selected.
Note: If employees have a default job that is not allowed at the site, and the employee clocks in without a job selected, the default job will still be used.


Site Clocked In

The Clocked In tab provides a quick view of which employees are currently clocked into the site.

Site Helper

The Helper tab allows information from one site to be quickly copied to one or more additional sites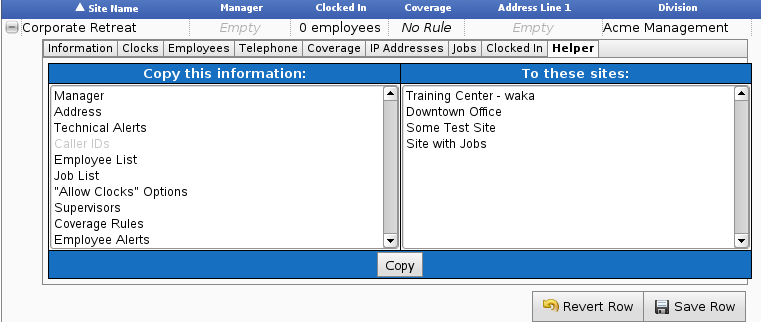 See Also:
Add a Site (1.8, 1.9, 1.10)