---
Applies to versions: 1.8, 1.9, 1.10, 1.11
Job Categories
Job categories allow you to organize jobs for reporting purposes.


Permission: Job Management -> Job Categories
Default Permission Groups: Manager, Job Manager, Employee Administrator, or Payroll Administrator

Using the left pane Main Menu, click on: Administration » Jobs » Job Categories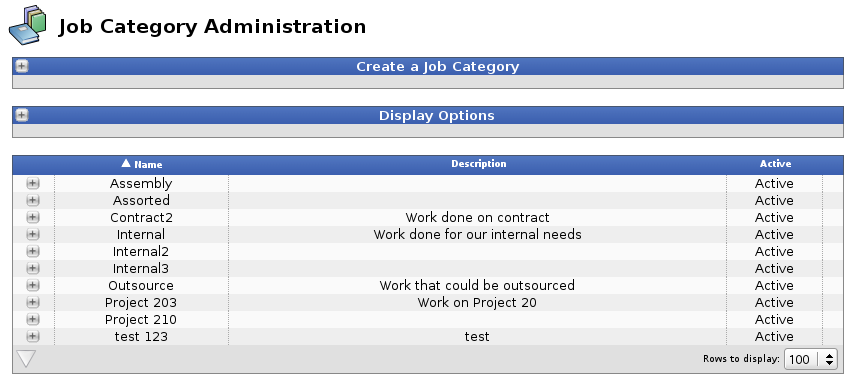 Job Management - Job Categories
To Add a New Job Category


Add Job Category
Click on the + next te "Create a Job Category."
Fill in the name and optional description. Thin click "Submit."
To Enter Job Category Details or Edit an existing Job Category
Select the Job Category from the pull-down and click on the Edit button.



Job Category Details Screen

Each Category Name must be unique and a maximum of 24 characters.
The Description is optional (it is not used elsewhere in the job tracking system) and is limited to 150 characters.

Enter/Adjust the Category Name, Description, and Allow Use fields as necessary.
Click on the Save Row button to save your adjustments.
©2004-2019 TimeIPS, Inc. All Rights Reserved - TimeIPS and the TimeIPS logo are registered trademarks of TimeIPS, Inc.
"Intelligent Personnel System" "Run your Business. We'll watch the clock." are trademarks of TimeIPS, Inc.
TimeIPS is protected by one or more patents. Patent No. US 7,114.684 B2.