Applies to versions: 1.8, 1.9, 1.10, 1.11
Modules/Upgrades
Many features and optional modules are available for TimeIPS to expand and improve the system's capabilities.
Permissions: System Administration -> Modules
Default Permission Group: System Administrators

Using the left pane Main Menu, click on: System » Modules/Upgrades.
IPSIPS Intelligent Personnel System Upgrade Module
The IPSIPS Intelligent Personnel System Upgrade Module upgrades TimeIPS Digital Time Clocks to Intelligent Personnel Systems which include numerous system enhancements such as:


IPSJOB Unlimited Jobs
The Unlimited Jobs module provides an unlimited number of active jobs, job customers, and job categories.
This powerful upgrade module provides the ability for unlimited* active Time-Validated (clock in / clock out) jobs or projects. Each job can have a billing rate and a pay rate, and the pay rate can be different for each employee. This is ideal for businesses involved in production, assembly, fabrication or service type work involving a wide range of employees across multiple shifts and/or with different pay rates per job.
You'll no longer need to wonder how your employees are spending their time - using the simple, yet effective, real time clock in / clock out functionality of TimeIPS, employees can move quickly from one job to the next throughout the day and TimeIPS will record their clock events in real time.
At the end of each day, week or any period you desire, TimeIPS will provide you the hours and minutes worked, by employee, on each each job they've clocked in and out of. With multiple, simultaneous employee clock in / clock out access to the same job at the same time, your staff can easily record the work they've performed - no matter how many employees are involved in the production or assembly of a job or project. As a bonus, TimeIPS will even let you know the "down time" for each employee based on their clock events so you can better manage your labor costs and maximize your personnel productivity.
Features:
Allows the creation and management of large numbers of jobs
Each job can have a Category, Billing Rate, GL number, Control Number and Customer
A per-job pay rate can be set for work done by employees on the job
Per-job pay rates include hourly-rate for the job (i.e. $10.00/hour), pay differential per job (i.e. +$2.00/hour) or pay rate multiplier (i.e. 125%)
Option to set per-employee overrides on the per-job pay, including all the above options
Option to specify a "job manager" who can view and edit times of any employees who work on their job and who can run reports that include all time on their job, even if they are not the manager of the employees.
Each employee can have a default job. This is the job they will automatically be working if they don't specify a different job when they clock
When used in conjunction with the TimeIPS Scheduling module (IPSSCH) automatic job changes can be performed at scheduled times to provide shift differential pay
When used in conjunction with the TimeIPS Scheduling module (IPSSCH) default jobs can be set for each employee at scheduled times
When used in conjunction with the TimeIPS Advanced Overtime module (IPSOTO) jobs can be set as standard time, overtime, doubletime, or premium time and can be set to count (or not count) toward overtime calculations. Ideal for paid breaks or special pay outside of normal work hours.
Payroll reports are fully aware of job differential pay and use it to calculate "base pay" for overtime calculations per federal labor law requirements
Ideal for use in the following applications:
Assembly and production-based companies
Professional services firms
Retail or food service businesses
Outsource services firms
Any business that needs the ability to track time and money spent on jobs or projects in real time
* The number of jobs and projects that can be tracked is limited only by the TimeIPS server hardware.
IPSJWO Job WorkOrders
This powerful upgrade module provides the ability to create work orders. Each work order can contain one or more jobs, with specific details for what needs to be done on each job.
This is ideal for businesses involved in production, assembly, fabrication or service type work where multiple jobs with specific instructions are required for each customer project and the time on each set of jobs needs to be tracked under a single work order number.
At the end of each day, week or any period you desire, TimeIPS will provide you the hours and minutes worked on each job within each work order.
Features:
Allows the creation and management of work orders
Each work order can have a Customer, Name, Code, Start Date, Due Date and PO number set.
Jobs can be assigned to the work order, and the order in which the jobs must be performed can be set and re-arranged
A bar-coded PDF page can be generated and printed for each work order. This can be used by employees to clock into the work order so that the jobs on the work order can be tracked.

Must be used with IPSIPS (provides 30 jobs). If you have more than 30 jobs, also purchase IPSJOB.
IPSQBI Payroll Integration with Benefits Tracking
The Payroll Integration and Benefits Tracking module includes integration with or export files for many of the most popular payroll software programs, including:

The Payroll Integration and Benefits Tracking feature also allows you to:
IPSSCH Scheduling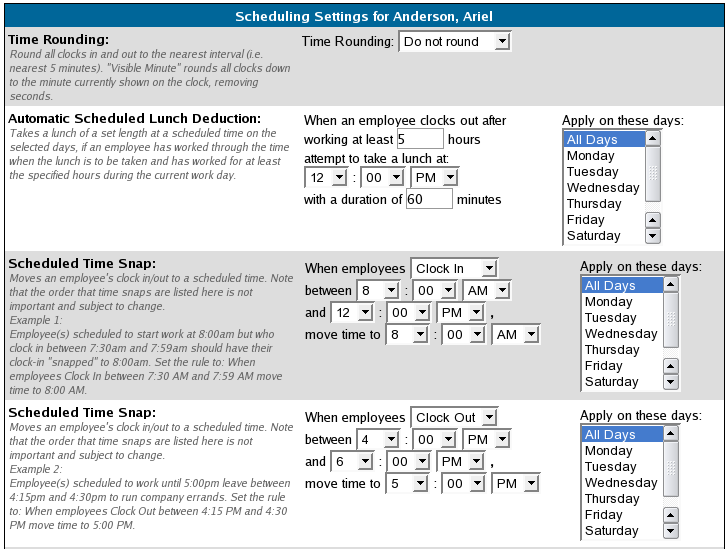 The Scheduled and Automatic Clock Control feature allows you to:
IPSEMP Employee Import and Export
The Employee Import and Export feature allows you to Import, Export, and Update the following:
The Advanced Benefits Tracking module includes:
IPSREM Remote Employee Access
Each IPSREM Remote Employee Clocking module allows up to 10 employees to clock in and out from a computer terminal networked with your TimeIPS time station. Add as many IPSREM modules as needed for the number of employees clocking.
Remote clocking allows capturing custom fields. This is ideal for organizations tracking additional information, such as equipment used, miles driven, customers, projects, work codes, etc. These custom fields can be used instead of, or in addition to, jobs, work-orders (with IPSJWO) and notes.
Access to remote clocking can be restricted by IP address and IP addresses can be connected to sites (requires IPSSITE module) to track work in specific locations.
IPSSEC Enterprise Security Tools
The Enterprise Security Tools provides additional security functionality:
Create or upload a security certificate for secure TimeIPS web pages.
Generate a CSR signing request for your certificate allowing an authority to sign your certificate so browsers recognize your pages as secure automatically.
IPSEPI Custom Payroll Export
The Enhanced Payroll Integration module supports many additional payroll exports. Please view our secure.timeips.com description for the complete list.
IPSEPC
The Custom Payroll Export module allows for payroll exports with completely customizable formatting.
Powerful Custom Payroll Export
Unlimited, fully mappable fields.
User defined headers and footers.
Embedded spreadsheet formulas with row references.
Per-cell expression evaluation for advanced formatting and customizable logic.
Multi-level sorting, totaling and summarizing options.
Automatic report chaining to combine multiple report formats into a single file.
IPSAPP
The TimeIPS IPSAPP – Approvals Module™ provides the following request and approval options:
Employees Request Benefit Use, Managers Can Approve or Deny. Employees see a Benefits Request option under MyTimeIPS. Benefit use can be requested. Managers see requests and can approve or deny. Email reminders and numerous configuration options.
Employees and Managers Approve Timecards for Payroll. Employees see a Timecard Approval option under MyTimeIPS. Worked time can be reviewed on a calendar and approved. Managers see approved and pending timecards. Payroll checks for all approved timecards before running. Email reminders and numerous configuration options.
IPSOTO
The Over Time Options module provides extensive and advanced overtime rule options:
Set Daily Overtime and Doubletime Options: For each day of the week, set the number of hours worked before Overtime or Doubletime goes into effect. his allows for rules such as any work on Sunday is paid at Doubletime, or work after 4 hours on Friday is Overtime.
Additional Overtime Level for Premium Time: Additional overtime level for Premium Time. This allows for Doubletime-and-a-half, or other user-defined pay multiplier level as needed.
Holiday Time can be Overtime or Doubletime: Set work done on a Holiday to be either Standard Time, Overtime, or Doubletime.
IPSSFT
The Shift and shift differentials module provides shift and shift pay controls:
Allows the creation of multiple shifts, with customer specified names.
Hours worked on a shift can be manually entered.
Time can be entered for multiple days and multiple employees at one time.
Assignment of employees to shifts and tracking over time
Unlimited pay differentials per shift, including start, stop, duration and repeat for each
Counts toward overtime option per shift differential
Pay Type (Standard Time, OverTime, DoubleTime, etc.) per shift differential
IPSABO
The Advanced Backup Options module provides backup options:
Automated FTP backups without a TimeIPS Backup Account
Automated SFTP backups without a TimeIPS Backup Account
Automated Email backups without a TimeIPS Backup Account
Configurable hour-of-the-day for Email and FTP and SFTP backups to run
Schedule hour-of-the-day for backups to run, up to 24 times per day
IPSPRM
The Enterprise Permissions Module provides:
Ability to create and manage permission groups that grant access or control over user-selectable groups of items.
The items that can be controlled are virtually everything in TimeIPS. For example: employees, jobs, departments, employee pay rate, job codes, work orders, etc.
The access or control levels include viewing, creating, deleting, and editing.
Which items have access or control can all be based on the item being managed by you, being in your department, being in a site you manage, being in your division, being in a division you manage, etc.
Employees can be assigned to one or more permissions groups. Thus, each employee will get the sum of all permissions granted by all groups assigned to them.
IPSPWT
The Enterprise Permissions Module provides:
Allows the creation and management of custom piecework items.
Each piecework item can have monetary pay, or can be fractions-of-an-hour pay.
Piecework pay rates can be set for all employees with exception/override for selected employees.
Pay codes can be set per piecework for cost tracking and allocation.
Pay for piecework is computed into FLSA base rate for the week to facilitate labor law pay compliance.
Hardware Upgrades Available:
Relay Controls
Activate a device such as a buzzer or door lock at a specified time or triggered by an employee clock in/out using a TimeIPS Relay Control.
TimeIPS Telephone Clocking System