---
Applies to versions: 1.8, 1.9, 1.10, 1.11
Adjusting SMTP Mail Settings
TimeIPS is its own SMTP Mail Server. TimeIPS can also use any outgoing SMTP Mail Server to send email notifications, backups, and alerts. Some ISP's block port 25 (SMTP) traffic as SPAM. If this is the case, request the SMTP Mail Server name from your ISP and enter this along with your email account Mail Username and Mail Password.


Security Level Required: System Administrator

Using the left pane Main Menu, click on: Administration » System Administration » System Settings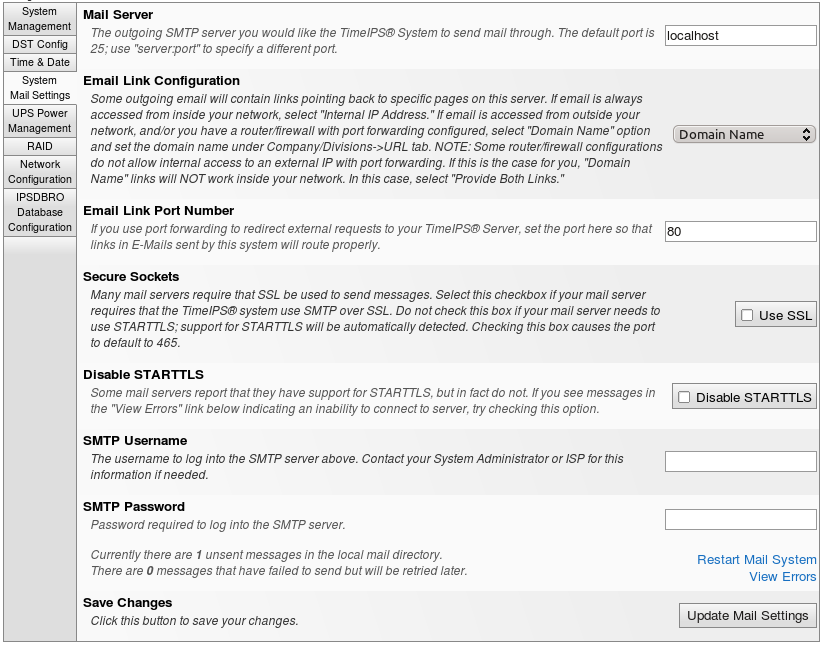 Configure the Mail Server, SMTP Username, and SMTP Password as necessary.
If your mail server requires TLS (Transport Layer Security) or SSL (Secure Sockets Layer), check Use SSL to enable it.
Some mail servers report STARTTLS support but in fact do not. If you see STARTTLS errors in the error list below, check Disable STARTTLS to turn this feature off.

Compatibility with Third Party SMTP Email Servers

As of January 2014, most external third-party email servers stopped accepting connections without the latest version of STARTTLS and the encrpytion that it usees. If you have difficluty connecting to an exteral SMTP mail service, including Google's gmail, you must eitther upgrade to TimeIPS 2.0.x, or change to a different email service.

Internal/External E-Mail Link Configuration

If you use port forwarding to provide external access to your TimeIPS Server (e.g., http://www.yourHostName.com:8000), links provided in E-mails sent from your TimeIPS server may not be routable from your internal network. Your TimeIPS Server can write two different links in place in these E-Mails, the Fully Qualified Domain Name with Port Number, and Direct Internal IP Address.
The Email Link Configuration setting sets which link types to set: Domain Name, Internal IP Address, or Include Both Links.
The port used for port forwarding should be set with the Email Link Port Number setting.
Some common ISP's and their SMTP Mail Server names:
| Common ISP's | SMTP Mail Server Name |
| --- | --- |
| AOL | smtp.aol.com |
| SBC Global | smtp.sbcglobal.net |
| SW Bell | mail.swbell.net |
NOTE: The listed SMTP Mail Servers may have changed since the writing of this document. Please refer to your Internet Service Provider for the current SMTP Mail Server name.
©2004-2019 TimeIPS, Inc. All Rights Reserved - TimeIPS and the TimeIPS logo are registered trademarks of TimeIPS, Inc.
"Intelligent Personnel System" "Run your Business. We'll watch the clock." are trademarks of TimeIPS, Inc.
TimeIPS is protected by one or more patents. Patent No. US 7,114.684 B2.