---
Applies to versions: 2.0, 2.1, 2.2
Schedule Violations Report
The Schedule Violations report provides a quick way to see employees who have either an early or late violation to their scheduled work time.
Using the left pane Main Menu » Administration, click on: Reports » Special Reports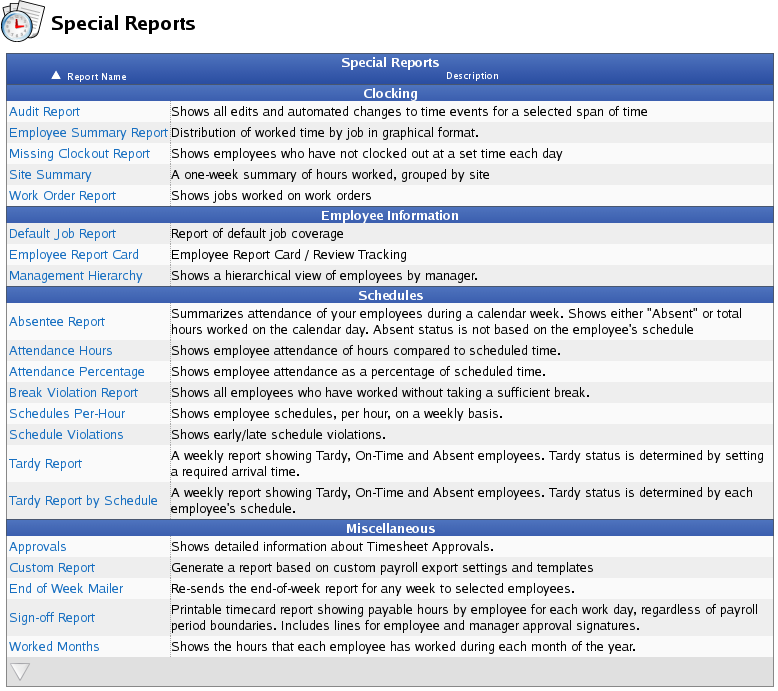 Special Reports provide information and data from the system beyond the standard Time Edit/Report. Select a report by clicking on the report name
Under Schedules, click on: Schedule Violations







Select Date Range: Choose either a predefined or custom time range in which to run the report.

Use the drop down menu to select a predefined range, such as "This week", "Last Month", and the current and last completed periods for your configured payroll types. You can use this selector to quickly access the most commonly used time ranges.
You can also select a custom date range using the From and To fields. Click on the field to display a calendar and then select the date. This field can also be edited in place so just click in the box and type over the displayed date and time.
To filter which employees will appear in the report, select an individual employee or group from the drop-down menu. This works in conjunction with Employee Selection Groups, and your custom presets will appear in this list.
To include an early or late clock in/out, check the box next to that violation. To exclude it, uncheck the box.
Click the Display button to see the report below.

Click the Export button to export and view the report in a spreadsheet program such as OpenOffice.

©2004-2019 TimeIPS, Inc. All Rights Reserved - TimeIPS and the TimeIPS logo are registered trademarks of TimeIPS, Inc.
"Intelligent Personnel System" "Run your Business. We'll watch the clock." are trademarks of TimeIPS, Inc.
TimeIPS is protected by one or more patents. Patent No. US 7,114.684 B2.