---
Applies to versions: 2.0, 2.1, 2.2, 2.3, 2.4, 2.5, 3.0
ID Badge Functions Import
ID Badge Functions Import allows importing a spreadsheet of badge functions.
Using the left pane Main Menu » Administration, click on: Clocking » ID/Badge Functions
Then click on the Import/Export icon.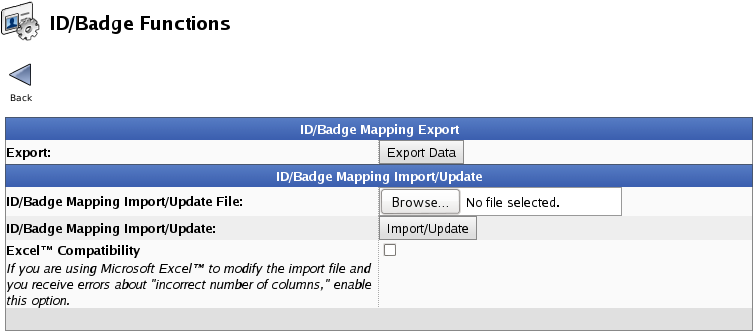 Export Instructions


Click the Export Data button to generate a .csv file containing the selected information.


To edit the resulting .csv file, we recommend a spreadsheet application such as Excel™ or OpenOffice.org Calc.


If you make changes to the .csv file and would like those changes to take effect in TimeIPS®, use the "ID/Badge Mapping Import/Update" function below.
Import Instructions


Use the "Export Data" function above to generate a template file and either save the file on your desktop/home directory or open it directly. Use a spreadsheet program such as Excel™ or OpenOffice.org Calc and fill in your ID/Badge Mapping data.


Save your .csv file to your desktop/home directory.


Click the Browse... button above and select your .csv file with new or updated ID/Badge Mappings data.


Click the Import/Update button.
©2004-2019 TimeIPS, Inc. All Rights Reserved - TimeIPS and the TimeIPS logo are registered trademarks of TimeIPS, Inc.
"Intelligent Personnel System" "Run your Business. We'll watch the clock." are trademarks of TimeIPS, Inc.
TimeIPS is protected by one or more patents. Patent No. US 7,114.684 B2.