---
Applies to versions: 2.0, 2.1, 2.2, 2.3, 2.4, 3.0, 3.1
Benefits Log
TimeIPS Benefits Log provides a way to see all kind of benefits, accruals, resets and use in one place.


The Payroll Integration with Benefits Tracking module (IPSQBI) is required.
Included features:
One accrual group
Two tenure levels
Vacation and Sick accrual types
Automatic weekly accruals
With the optional Advanced Benefits Tracking module (IPSBEN), the following features are added:
Unlimited accrual groups
Unlimited tenure levels
Unlimited custom plus Vacation and Sick accrual types
Flexible accrual periods
Enhanced configuration options including caps and prorating
Using the left pane Main Menu » Administration, click on: Benefits » Benefits Log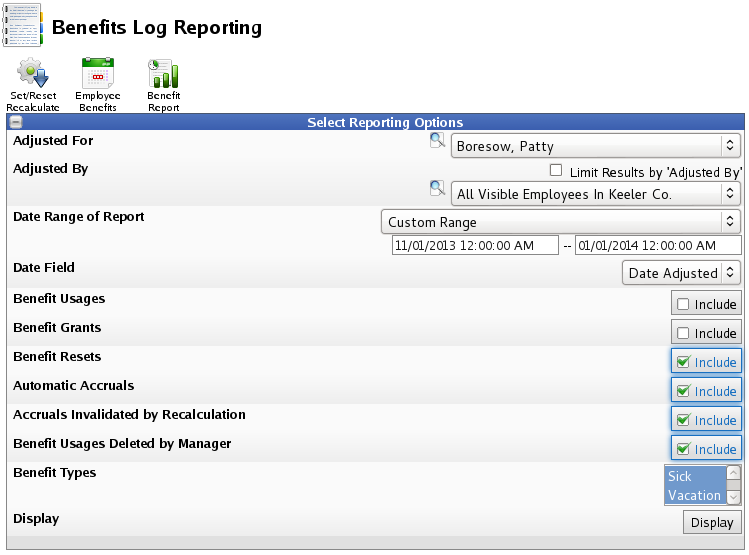 The Benefit Log Report allows you to run a report for employee(s) adjustments to benefits. Here you will set the criteria that is specific to either individual employee or groups of employees.
Adjusted For: From the drop down list, select the employee or group of employees that were adjusted.
Adjusted By: Optionally, check the "Limit Results by 'Adjusted By'" box, then select the employee or group of employees that made the adjustment.
Date Range of Report:

Use the drop down menu to select a predefined range, such as "This week", "This Month", and the current and last completed periods for your configured payroll types. You can use this selector to quickly access the most commonly used time ranges.
You can also select a custom date range using the From and To fields. Click on the field to display a calendar and then select the date. This field can also be edited in place so just click in the box and type over the displayed date and time.

The Date Field in the benefits log can apply to the "Date Adjusted", Effective Date, or "Paid Date". From the drop down list, choose which date you would like displayed on the log.
The next list of options can be checked to include one or more types of adjustments within the report. These include:

Benefit Usages
Benefit Grants
Benefit Resets
Automatic Accruals This includes all automatic system accruals regardless to the "Adjusted By" section.
Accruals Invalidated by Recalculation
Benefit Usages Deleted by Manager
Benefit Types From the drop down list, choose which benefit types to include in the report. Hold down the Ctrl key while clicking to select multiple types.

Click the Display button to generate the report.
©2004-2019 TimeIPS, Inc. All Rights Reserved - TimeIPS and the TimeIPS logo are registered trademarks of TimeIPS, Inc.
"Intelligent Personnel System" "Run your Business. We'll watch the clock." are trademarks of TimeIPS, Inc.
TimeIPS is protected by one or more patents. Patent No. US 7,114.684 B2.