---
Applies to versions: 2.0, 2.1, 2.2, 2.3, 2.4, 2.5, 3.0
Accrual Group Association
The Accrual Associations feature generates a listing of the current accrual group membership for any list of employees.
Using the left pane Main Menu » Administration, click on: Benefits » Accruals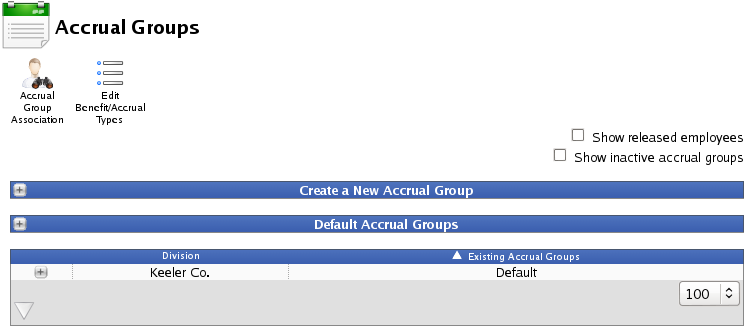 Accrual Groups are used to track a set of employees with related accrual rules. Most companies will only need one accrual group. Separate groups are useful when you have multiple classes of employees with different rules; for example, a company may have different benefit rules for full-time and part-time employees.
The Payroll Integration with Benefits Tracking module (IPSQBI) is required.
Included features:
One accrual group
Two tenure levels
Vacation and Sick accrual types
Automatic weekly accruals
With the optional Advanced Benefits Tracking module (IPSBEN), the following features are added:
Unlimited accrual groups
Unlimited tenure levels
Unlimited custom plus Vacation and Sick accrual types
Flexible accrual periods
Enhanced configuration options including caps and prorating
To View Current Group Associations
Click the Accrual Group Association icon at the top of the page.



Select an Employee or Group from the drop down list.
Click the Submit Query button to view the report.

This report will show the date each employee joined his/her current accrual group, which accrual group he/she currently belongs to, and when (if ever) the employee is scheduled to leave that accrual group.
An employee's complete accrual group membership history can be viewed by clicking that Employee's name.
Clicking on the name of the Accrual Group will open the Accrual Groups page to display the accrual settings for that group.
©2004-2019 TimeIPS, Inc. All Rights Reserved - TimeIPS and the TimeIPS logo are registered trademarks of TimeIPS, Inc.
"Intelligent Personnel System" "Run your Business. We'll watch the clock." are trademarks of TimeIPS, Inc.
TimeIPS is protected by one or more patents. Patent No. US 7,114.684 B2.