---
Applies to versions: 2.0, 2.1, 2.2, 2.3, 2.4, 2.5, 3.0
E-Mail Templates
E-Mail Templates can be used with the IPSEML and/or IPSAPP module to customize the messages that are sent in a number of common situations.
Using the left pane Main Menu » Administration, click on: System » E-Mail Templates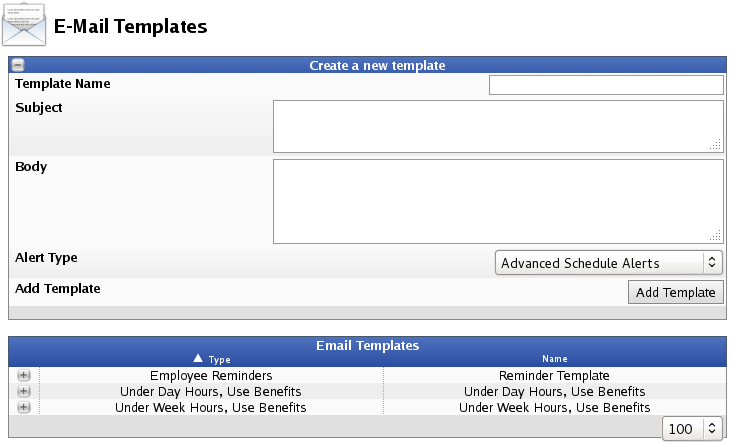 Email templates provide an easy method of standardizing the format of information that will be provided by the system in a number of places. For example, a template can be created which will be used whenever an employee reminder is generated. The email body can include special tags that will be expanded during the processing period.
Create a New Template

Add a descriptive Name to be used to reference this particular template.


Add a Subject line to be used when sending emails with this template.


Along with the message, basic template tags can be included in the Body which will be populated with the specific information as needed.
For Example, the following tags are available for Employee Benefit Alerts.

[badge] -- The employee's badge number
[orgUnit] -- The employee's organizational unit's name
[manager] -- The employee's manager name
[name] -- The employee's name
[stock] -- The original default message
[stock-subject] -- The original default subject


The tag will be replaced by the actual information when the email is generated. So [name] is replaced with the employee's name. Attention [name] may read "Attention Joe" instead.


Select a Type of alert this template is being created for.


Click the Add Template button to save.
Edit or Delete a Template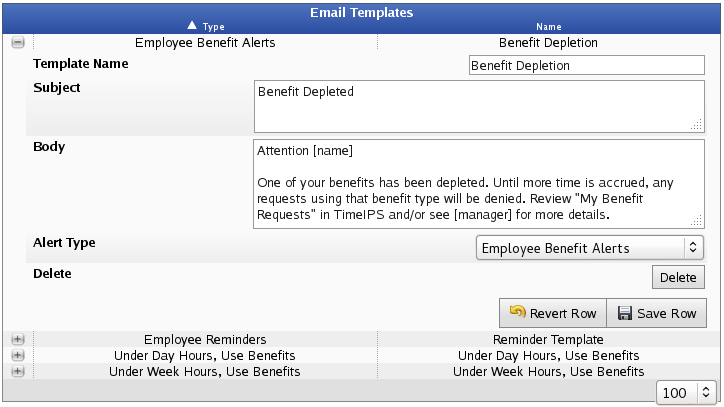 Click the + (plus) sign to the left of the Alert Type to expand the Email Templates window.


Make any necessary changes and then click the Save Row button.


To delete this template, click the Delete button.

NOTE: When attempting to delete a template, you may find that the system will not allow it. This is because a system reminder is relying on this template to exist. If you really want to delete this template, you must find each of these reminder options and switch those templates to a different one before deletion can occur.
©2004-2019 TimeIPS, Inc. All Rights Reserved - TimeIPS and the TimeIPS logo are registered trademarks of TimeIPS, Inc.
"Intelligent Personnel System" "Run your Business. We'll watch the clock." are trademarks of TimeIPS, Inc.
TimeIPS is protected by one or more patents. Patent No. US 7,114.684 B2.