---
Applies to versions: 1.3, 1.4
Payroll Export - Preview-Review Payroll Export
The Preview-Review allows you to view payroll events on the screen and mark them as "Payrolled" to close out the payroll period. This locks the time worked from being recalculated when payroll is run even if past time events are adjusted. Payroll Events are automatically "Payrolled" after a successful QuickBooks Integration.
WARNING: Marking a payroll period as payrolled is irreversible. Once payrolled, you can no longer export the data or integrate it with QuickBooks. You can view the data using the Preview-Review Payroll Export Type.
Security Level Required: Payroll Administrator

Using the left pane Main Menu, click on: Administration » Payroll and Reports » Payroll Export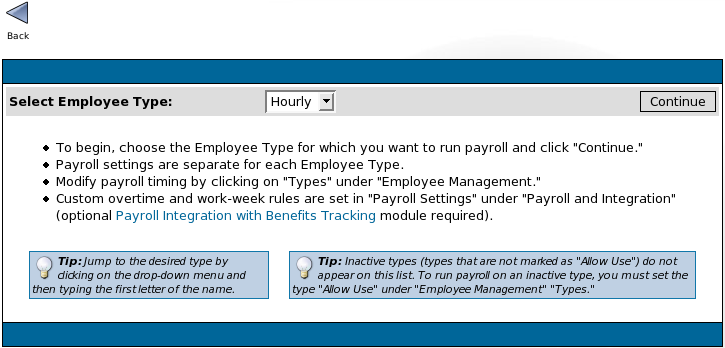 The Payroll Export Page
Select an Employee Type in the pull-down and click on the Continue button.



The Payroll Export Page

Select the Payroll Period Ending and the Employee(s).

NOTE: All Employees are selected by default. Select a group of employees by clicking on their names while holding down the CTRL key.

Select Preview-Review in the Select Payroll Export Type in the pull-down.
Click on the Run Payroll button.




The Payroll Preview Page

TIP: If you have holiday, sick, or vacation applied, you can click on the (Edit) link to the right of the entry to edit or delete the pay.
Marking Payroll Entries as Payrolled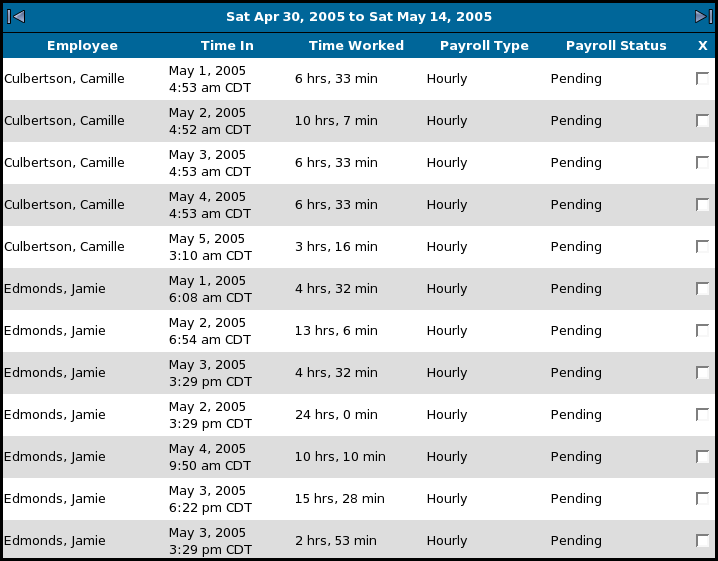 The Payroll Report Page
Run the Preview-Review Payroll Export.
Click on the Mark Payroll Entries "Payrolled" >> button.

TIP: Click on an underlined column header to sort the data by the information in that column.

Check each box that has been payrolled.

TIP: Use the Check All button at the bottom of the screen to mark all payroll events.

Click on the Mark Payrolled button to mark and "lock" each selected payroll event or the Back icon to leave the page without applying the adjustments.

TIP: You can use the next and previous icons to the left and right of the date range to quickly view different payroll periods and mark them as payrolled.
See Also:
Define Payroll Types (1.3, 1.4, 1.5)
Adjust Work Week Settings (1.3, 1.4)
Export Payroll or Run ADP, Paychex, or Volt Export Files (1.3, 1.4)
Getting Started with TimeIPS (1.3, 1.4, 1.5, 1.6)
©2004-2019 TimeIPS, Inc. All Rights Reserved - TimeIPS and the TimeIPS logo are registered trademarks of TimeIPS, Inc.
"Intelligent Personnel System" "Run your Business. We'll watch the clock." are trademarks of TimeIPS, Inc.
TimeIPS is protected by one or more patents. Patent No. US 7,114.684 B2.