Applies to versions: 2.0, 2.1, 2.2, 2.3, 2.4, 2.5, 3.0
Security
The Enterprise Enhanced Security Module (IPSSEC) adds client data encryption, secure web pages, enhanced firewall protection, and custom or auto-generated SSL certificates for added network security. To make use of the secure facilities of TimeIPS, you must first have a signed security certificate. You may select your certificate or create a new certificate.
Using the left pane Main Menu » Administration, click on: System » Security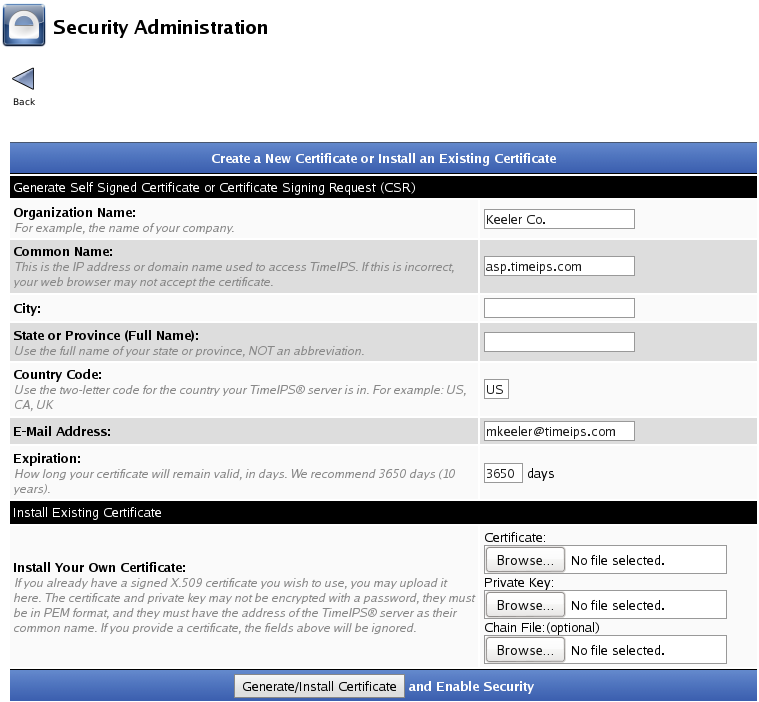 Enter your Organization's information.
OR
Click on the Browse buttons to select your Certificate, Private Key, and the optional Chain File.


Click on the Generate/Install Certificate button to generate/install the certificate and enable security.

If you chose to Install your own signed certificate, the page will reload and the Certificate Administration information will display on the Security page. All TimeIPS web pages are now secured, designated by the "s" in https://

If you chose to Generate a new certificate, your browser will alert you and ask you to acknowledge that you trust this certificate.

In Firefox, click on "I Understand the Risks".

Click the Add Exception button.

Then click the Confirm Security Exception button.


This will take you back to the Security page with the Certificate Administration information displayed. All TimeIPS web pages are now secured, designated by the "s" in https://

Firefox Warning about insecure password entry:

Starting with recent version of Firefox, password entry fields may show a warning if https mode is not used. To resolve this issue, either use IPSSEC and access TimeIPS via https, or disable the warning in Firefox.

To disable the warning, enter "about:config" in the url box for Firefox. A notice may appear, click to continue. Then, enter in the search box:

security.insecure_field_warning.contextual.enabled

Double-Click the "value" box and set it to "false"
See Also:
Modules/Upgrades (2.0, 2.1, 2.2, 2.3, 2.4, 2.5, 3.0)