---
Applies to versions: 1.4, 1.5, 1.6
Master Configuration
Master Configuration settings include information regarding your TimeIPS system and how employees' names display within the system.
Security Level Required: System Administrator Using the left pane Main Menu, click on: Administration » System Administration » Master Configuration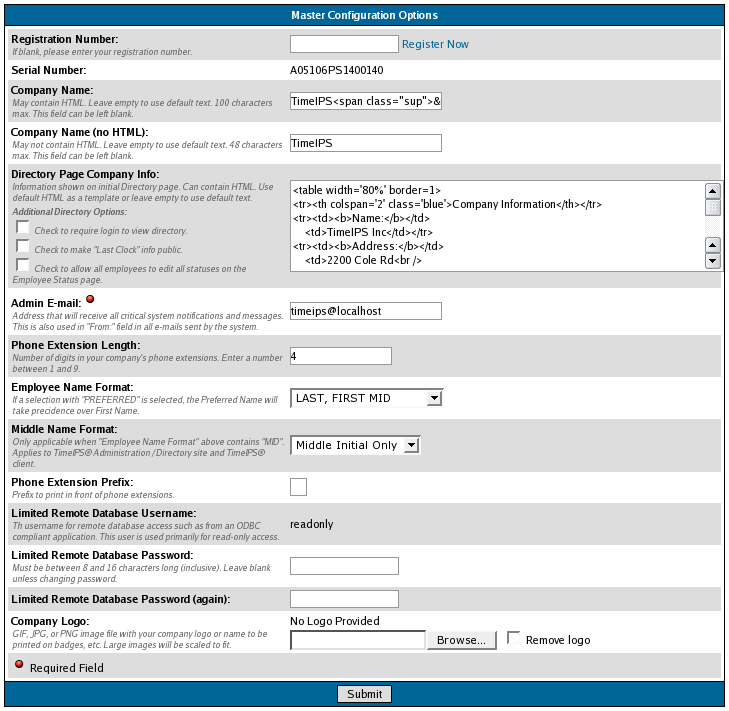 Master Configuration
Directory Page Company Info is entered using HTML tags. If you are not familiar with HTML coding, use the example HTML code provided. Locate the example information such as phone number and website then replace it with your company's information.
Restrict access to the directory pages by requiring login by clicking on the checkbox under the Directory Page Company Info field.
Important notifications are sent to the Admin E-mail address. TimeIPS generated emails are delivered with the Admin E-mail as the sender.
If your company uses phone extensions, enter the number of digits in the Phone Extension Length and the prefix in the Phone Extension Prefix, otherwise, ignore these fields. If phone extensions are entered for employees in the Employees section, they will display in the Employee Directory.
The Employee Name Format and Middle Name Format settings determine how employee names will display in TimeIPS. How names display on the TimeIPS LCD display are set in Client Configuration.
Limited Remote Database Username and Limited Remote Database Password allow you to view TimeIPS databases using a MySQL ODBC connection.
Enter or adjust the information as necessary.
Click on the Submit button to save the changes.
See Also:
Adjust Employee's Personal/Emergency Contact Numbers (1.3, 1.4)
View the Employee Directory (1.3, 1.4, 1.5)
Adjust the LCD Display or Client Access Settings (1.3, 1.4, 1.5, 1.6)
©2004-2019 TimeIPS, Inc. All Rights Reserved - TimeIPS and the TimeIPS logo are registered trademarks of TimeIPS, Inc.
"Intelligent Personnel System" "Run your Business. We'll watch the clock." are trademarks of TimeIPS, Inc.
TimeIPS is protected by one or more patents. Patent No. US 7,114.684 B2.