---
Applies to versions: 2.4, 2.5
Enter Piecework
Piecework events for employees can be entered on the Enter Piecework page. A piecework event is the completion of a number of piecework items by an employee at a certain time. The amount paid for the quantity entered depends on the value of the Pay Rate for that Piecework at the time it was entered. (The Pay Rate is set on the Piecework Admin page. See the Piecework Admin article for instructions.)
Using the left pane Main Menu » Administration, click on: Piecework » Enter Piecework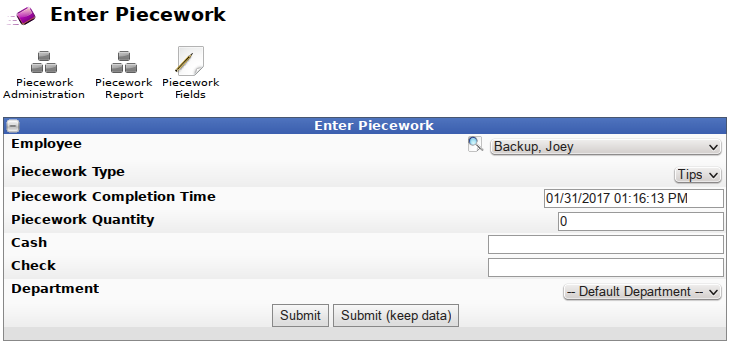 Enter New Piecework


If the window is not already exapanded, click the + (plus) sign to the left of the Enter Piecework bar.

Make your selectors from the following:
Click the Submit or the Submit (keep data) button to add the entry. Both will generated a message indicating that the submission was successful. Submit resets the boxes and "keep data" leaves the selections you made in the Enter Piecework table, making it easier to enter additional similar entries.
Submit

Submit (keep data)

©2004-2019 TimeIPS, Inc. All Rights Reserved - TimeIPS and the TimeIPS logo are registered trademarks of TimeIPS, Inc.
"Intelligent Personnel System" "Run your Business. We'll watch the clock." are trademarks of TimeIPS, Inc.
TimeIPS is protected by one or more patents. Patent No. US 7,114.684 B2.