Applies to versions: 1.3, 1.4, 1.5
Updating TimeIPS
The TimeIPS update system downloads and installs regular system updates and any of the powerful, yet affordable system enhancements or add-on modules you have purchased. The update service allows you to get the latest updates and upgrades that make TimeIPS more effective in your business every day. Because system updates improve the quality and performance of TimeIPS, we recommend that all systems use the update service.
Security Level Required: System Administrator

Using the left pane Main Menu, click on: Administration » System Administration » Updates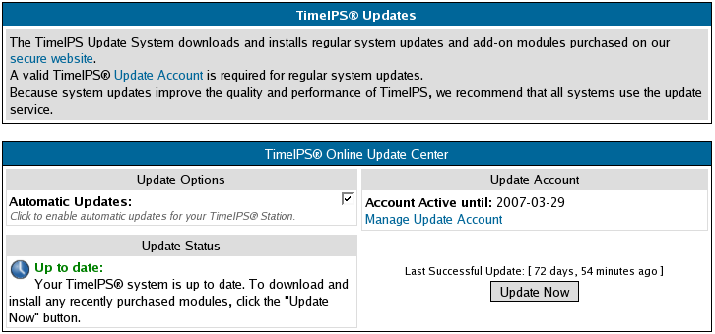 Updates
TimeIPS will update automatically general release downloads if the Automatic Updates checkbox is checked.
You can manually Update TimeIPS by clicking on the Update Now button. The download and installation can take an hour or more depending on the number of updates and your Internet connection speed. The screen will indicate when the Last Successful Update was completed.

In order to update you must have:
An Internet Connection to TimeIPS.
An active update account. Use the Manage Update Account link to view your update account status.
If you have a firewall or router, certain ports must be opened. View the list of required ports on the Updates page.

NOTE: If you need assistance configuring your router or firewall, please contact the manufacturer. TimeIPS Customer Relationship Managers are not trained to configure non-TimeIPS equipment.
See Also:
What's New in TimeIPS (1.3, 1.4, 1.5, 1.6, 1.8, 1.9, 1.10, 1.11, 2.0, 2.1, 2.2, 2.3, 2.4, 2.5, 3.0)
Modules/Upgrades (1.3, 1.4, 1.5, 1.6)
Getting Started with TimeIPS (1.3, 1.4, 1.5, 1.6)