Applies to versions: 2.5
Employee Report Card
The Employee Report Card provides a quick snapshot of an employee's performance for the month to date, the last quarter, the year to date and the previous year. The report also shows the employees last review and pay increase (if tracked). It lists the total number of benefit hours used by benefit type, absences, tardies, and total number of labor hours broken down by standard hours, overtime and double time (if applicable).
Using the left pane Main Menu » Administration, click on: Reports » Special Reports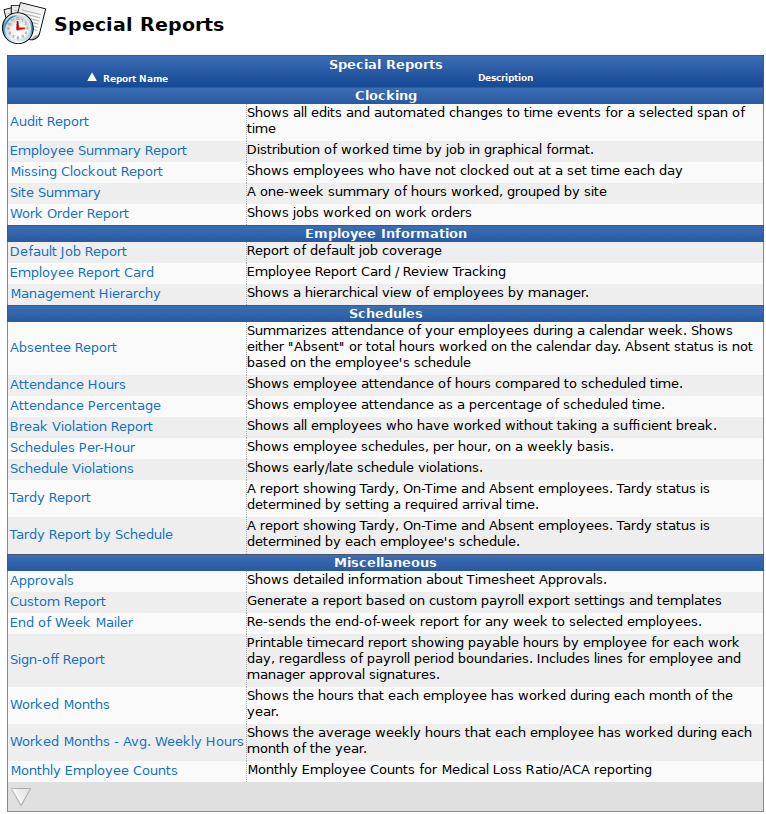 Special Reports provide information and data from the system beyond the standard Time Edit/Report. Select a report by clicking on the report name.
Under Employee Information, click on: Employee Report Card



From the drop down menu, select the employee for whom you would like to run the Report card.


Click on the Run Report button.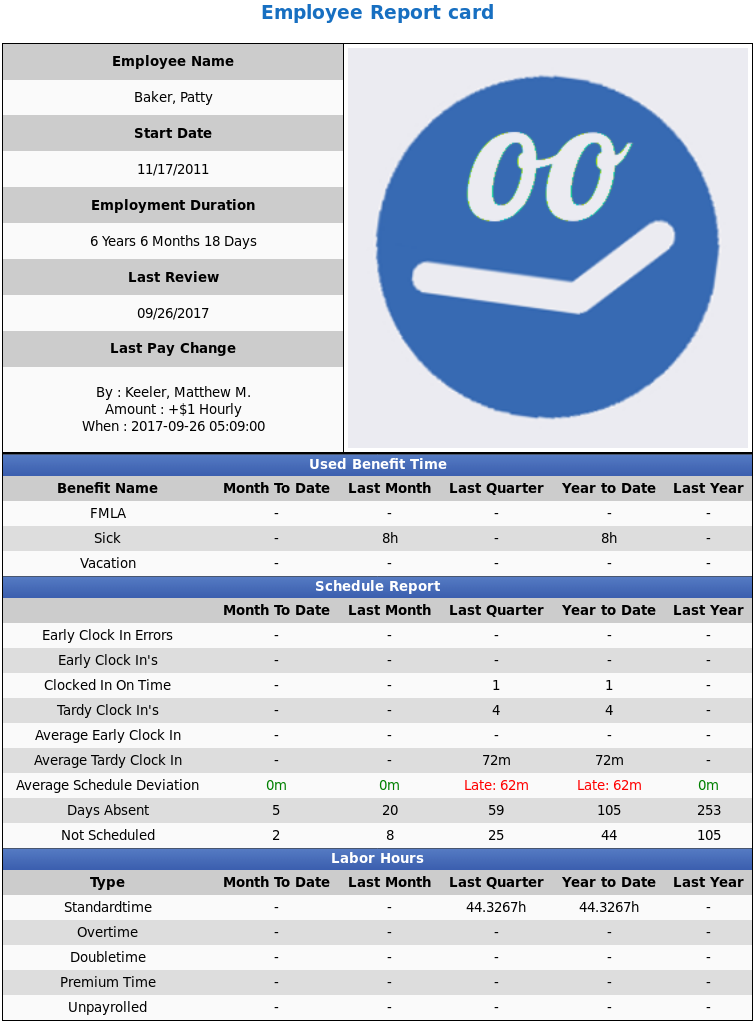 You can now see the entire Employee Report Card with the employee's photo id included (if they have been uploaded under the Employee Administration section).
Schedule Report
Early Clock In Errors:

These occur whenever an employee clocks in more than 24 hours prior to the scheduled time and stays clocked in through the beginning of the schedule.

Early/Tardy Clock In's:

When an employee clocks in before/after the "allowable minutes" defined in their schedule.

Clocked In On Time:

Any clock during the "allowable minutes" period defined in the employee schedule.

Average Early/Tardy Clock In:

Takes the average time an employee clocked in prior/after the "allowable minutes", for example if an employee can clock up to 5 min after 8AM and they clock in late at 8:12AM then 7 minutes would be used to calculate the average tardy time since it was 7 minutes after the allowable 5.

Average Schedule Deviation:

Shows the average of ALL early, on time and late clocks. This is a good indicator of when employees clock in on average. Note that the average deviation is figured from the exact scheduled time (not the scheduled time +/- allowable minutes).


Not Scheduled:

This is

a count of the number of days for which the employee did not have a schedule set

.

Except, if any kind of benefit is used on a non-scheduled day, then that day is NOT counted as one of the "Not Scheduled" days.



Labor Hours
Unpayrolled time has not yet been classified as Standardtime, Overtime, Doubletime, etc. so it is listed separately. To get that time to be classified, the user can run a Sign Off Report, Custom Report or payroll export for the employee for the time of the report (i.e. the last 2 years).