---
Applies to versions: 1.3, 1.4, 1.5, 1.6, 1.8, 1.9, 1.10, 1.11
Warranty/Service
TimeIPS includes warranty and phone support services for a specified time period to ensure your company's success with TimeIPS. You can purchase an extended warranty and/or support from the Warranty/Service page.
Security Level Required: System Administrator

Using the left pane Main Menu, click on: Administration » System Administration » Warranty/Service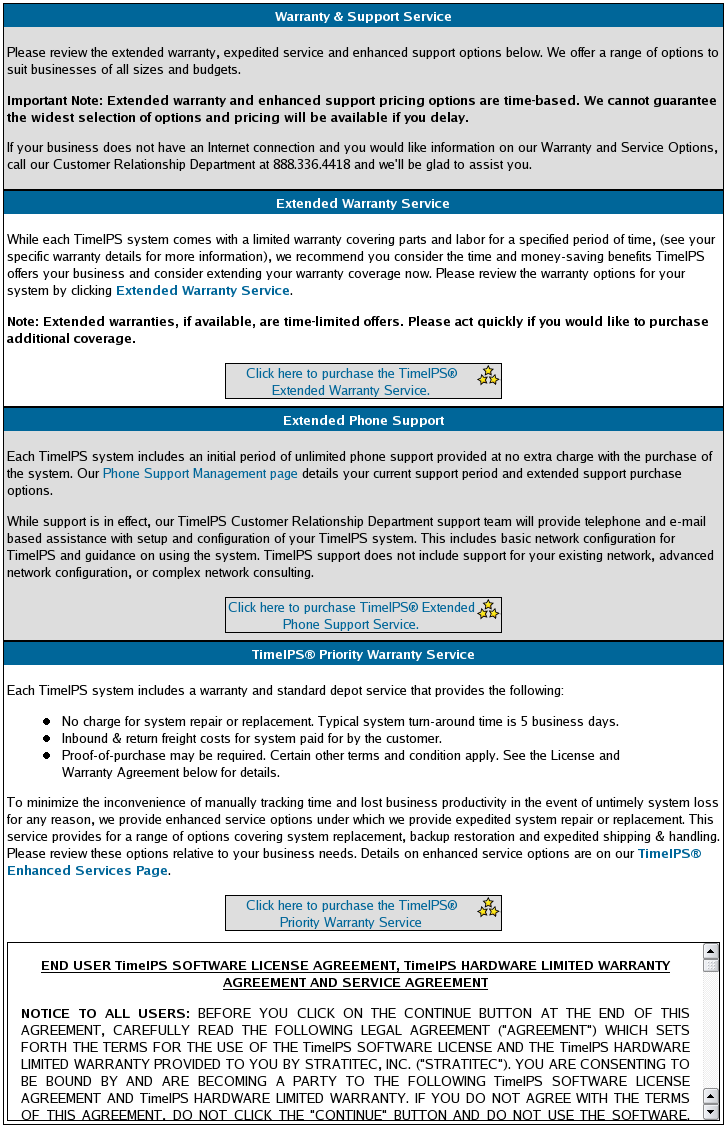 Warranty & Service Information
Review the options provided and click on the links to learn more about these helpful and time-saving services.
See Also:
Modules/Upgrades (1.3, 1.4, 1.5, 1.6)
TimeIPS Store (1.3, 1.4, 1.5, 1.6, 1.8, 1.9, 1.10, 1.11)
Getting Started wtih TimeIPS (1.3, 1.4, 1.5, 1.6)
©2004-2019 TimeIPS, Inc. All Rights Reserved - TimeIPS and the TimeIPS logo are registered trademarks of TimeIPS, Inc.
"Intelligent Personnel System" "Run your Business. We'll watch the clock." are trademarks of TimeIPS, Inc.
TimeIPS is protected by one or more patents. Patent No. US 7,114.684 B2.