Applies to versions: 3.2
Remote Clocking Interface
Remote Clocking allows employees to clock in from a computer or other web browsing device such as a smart phone. To use remote clocking, employees must be individually activated with a checkbox on the Remote Clocking page.
Using the left pane Main Menu, click on: Remote Clocking under Tools.
-or-
Browse to the TimeIPS IP address followed by /remote/ or a colon and the number 81.
EXAMPLE: If the TimeIPS Master station's IP address is 192.168.1.225, employees will browse to http://192.168.1.225/remote/ or http://192.168.1.225:81 to remotely clock in and out.
For Geo Fencing, employees will need to go to https to get a secure connection.
Geo Zones
If you are accessing the remote clock from your https address (and have set up Geo Zones/Locations), a prompt will ask to Allow the server to access the employee's location. It is recommended to check Remember and then click Allow.
Location information is displayed under the time. In this example, it says "You are not in a geo zone. (You can clock here.)"
Using Multi-Button and Badge Number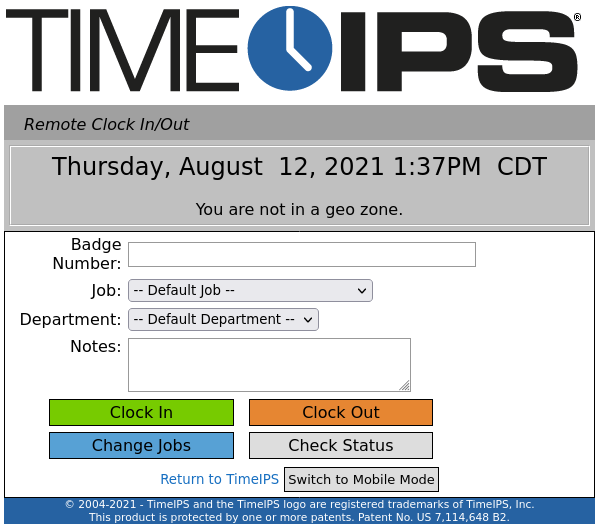 Enter a badge number. If you'd rather use a login name and password, select that option in the configuration.
If necessary, select the Job Code and/or Department you will be working on from the pull-down and enter any Notes.

NOTE:

IPSIPS

is required for Job Tracking.

TIP: Notes are stored with the Time In/Out pair. Clock Out notes will not overwrite any notes entered during a Clock In.

NOTE: The Job field name can be renamed in the configuration.

Click on the Clock In, Clock Out, or Change Jobs as applicable, or click on the Check Status button to view your current clock in/out status.
If "Use One-Button Interface" was selected in the Remote Clock Setup options, click on the Clock In/Out button to clock in or out, or click on the Check Status button to view your current clock in/out status.

Using Username/Password and One-Button Interface







To view and use the mobile verision which has a larger font and buttons, click the Switch to Mobile Mode button.

Using Mobile Mode