---
Applies to versions: 3.2
API Configuration
API Configuration allows viewing and managing of API Script Users and Targets. An "API Script User" is an employee who can perform actions using the API. Such actions are usually on a "target" employee. Employees who can be the target of API requests should be selected as an "API Script Target."
Note: One of the TimeIPS API modules is required.

Using the left pane Main Menu » Administration, click on: System » API Configuration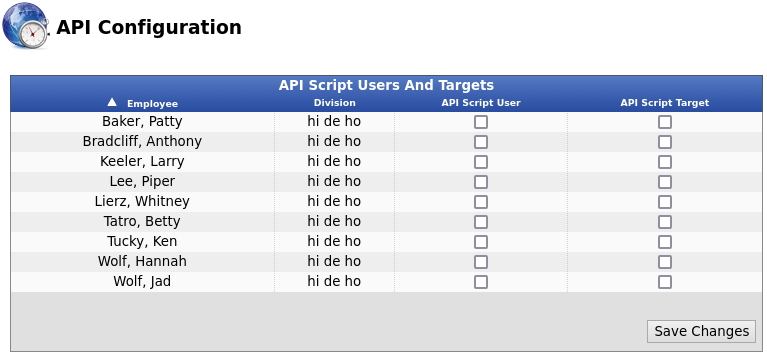 Select employees who are able to use the API by checking the appropriate box:


API Script User
API Script Target

Click on the Save Changes button to save the changes.
©2004-2023 TimeIPS, Inc. All Rights Reserved - TimeIPS and the TimeIPS logo are registered trademarks of TimeIPS, Inc.
"Intelligent Personnel System" "Run your Business. We'll watch the clock." are trademarks of TimeIPS, Inc.
TimeIPS is protected by one or more patents. Patent No. US 7,114.684 B2.