---
Applies to versions: 3.2
Web Access Logs
The Web Access Logs page displays all TimeIPS web pages accessed by any employee within the past 30 days.

Using the left pane Main Menu » Administration, click on: System » Web Access Logs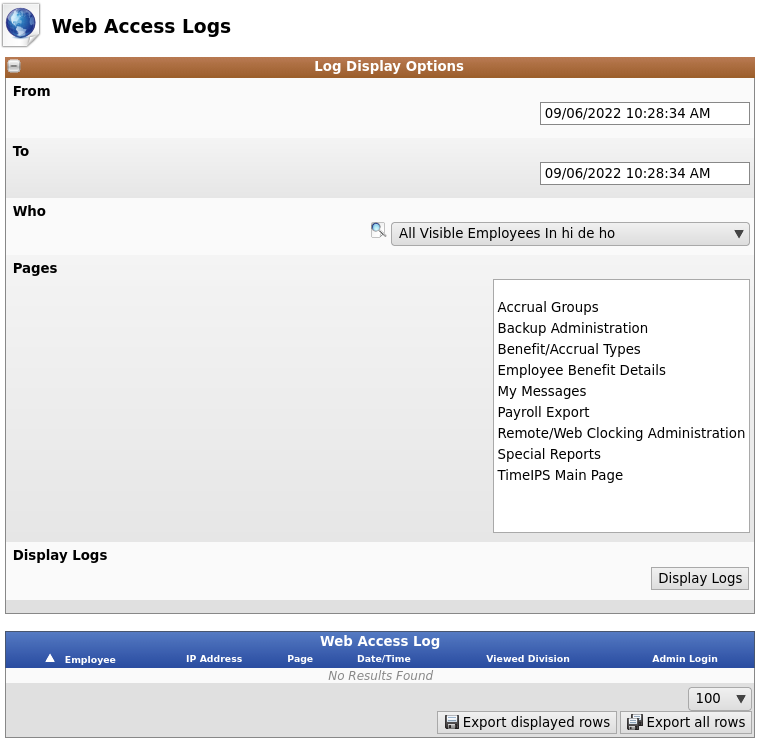 Select a From and To date to define the range of the report.
Note: By default, web access logs are only kept for 30 days. This can be configured under System » Company/Divisions » Security.
Select the employee or group of employees you would like to view.
Select one or more Pages in question. Use Ctrl-click or click and drag to select multiple pages at once.
Click the Display Logs button to see results.

©2004-2023 TimeIPS, Inc. All Rights Reserved - TimeIPS and the TimeIPS logo are registered trademarks of TimeIPS, Inc.
"Intelligent Personnel System" "Run your Business. We'll watch the clock." are trademarks of TimeIPS, Inc.
TimeIPS is protected by one or more patents. Patent No. US 7,114.684 B2.