---
Applies to versions: 1.11, 2.0, 2.1, 2.2, 2.3, 2.4, 2.5, 3.0, 3.1, 3.2
Schedule Report
The Schedule Report can show employee schedules in three major formats: grouped by week, grouped by employee, or grouped by day. You are also provided several additional options to customize the appearance of the report.
Using the left pane Main Menu » Administration, click on: Schedules » Schedule Report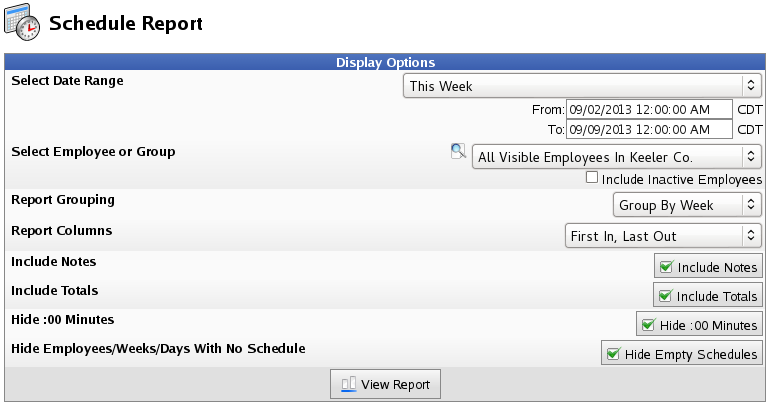 Manually select a range of time for this report using the "From" and "To", or use the Date Range drop-down box for a quick selection.


Select the Employee or Group whose schedules you wish to view.


Select the Report Grouping format. Grouping by week will generate at least one page per week showing every selected employee. Grouping by employee will generate at least one page per employee.


Under Report Columns, select the schedule data to show for each employee's day.


If Include Notes is selected, the report will include information about the daily schedule notes for each employee.


If Include Totals is selected, an additional column and row will be added for total hours.


If Hide :00 Minutes is selected, times such as 8:00 AM will print as 8 AM.

NOTE: This only affects times with :00 minutes. Times like 8:30 AM will always print as 8:30 AM.



Check the Hide Empty Schedules box to hide rows for employees without schedules. This will hide empty days, weeks, or entire employees depending on your selected Report Grouping setting.


Click the View Report button to create the pdf file.


©2004-2023 TimeIPS, Inc. All Rights Reserved - TimeIPS and the TimeIPS logo are registered trademarks of TimeIPS, Inc.
"Intelligent Personnel System" "Run your Business. We'll watch the clock." are trademarks of TimeIPS, Inc.
TimeIPS is protected by one or more patents. Patent No. US 7,114.684 B2.