---
Applies to versions: 2.0, 2.1, 2.2, 2.3, 2.4, 2.5, 3.0, 3.1, 3.2
Generation Overview
TimeIPS Holiday Generation Overview shows the settings for all holidays and all groups..

Using the left pane Main Menu » Administration, click on: Holidays » Generation Overview
The Overview page presents a matrix crossing each Holiday with each Holiday Group. The cells contain the source of the settings that the Holiday Engine uses to determine the settings of new automatically generated Holiday Events.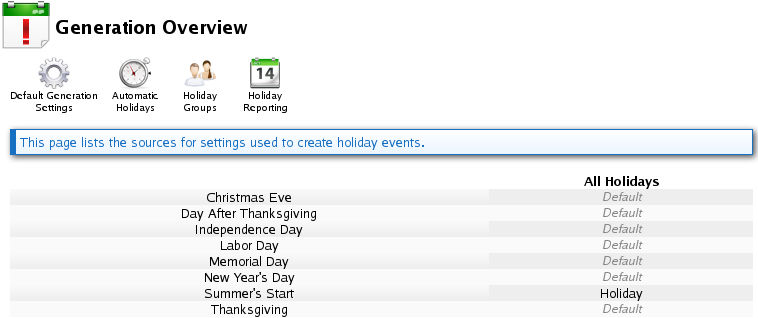 ©2004-2023 TimeIPS, Inc. All Rights Reserved - TimeIPS and the TimeIPS logo are registered trademarks of TimeIPS, Inc.
"Intelligent Personnel System" "Run your Business. We'll watch the clock." are trademarks of TimeIPS, Inc.
TimeIPS is protected by one or more patents. Patent No. US 7,114.684 B2.