---
Applies to versions: 2.0, 2.1, 2.2, 2.3, 2.4, 2.5, 3.0, 3.1, 3.2
Holidays
The TimeIPS Holidays feature automatically allocates paid holiday hours. The Payroll Integration with Benefits Tracking module is required.
Summary:
Holidays are created and are scheduled to be generally observed on a certain date (July 4th) or observed by rule (4th Thursday in November).
Employees are assigned to Holiday Groups.
Holiday Groups are assigned specific observances of Holidays.
The holiday group observances are configured to define how an employee in the group qualifies for the holiday and how the holiday is paid.
Individual holiday hours (called holiday events) can be reviewed on a per-employee basis and modified if needed
The automated holiday process is explained in the following diagram.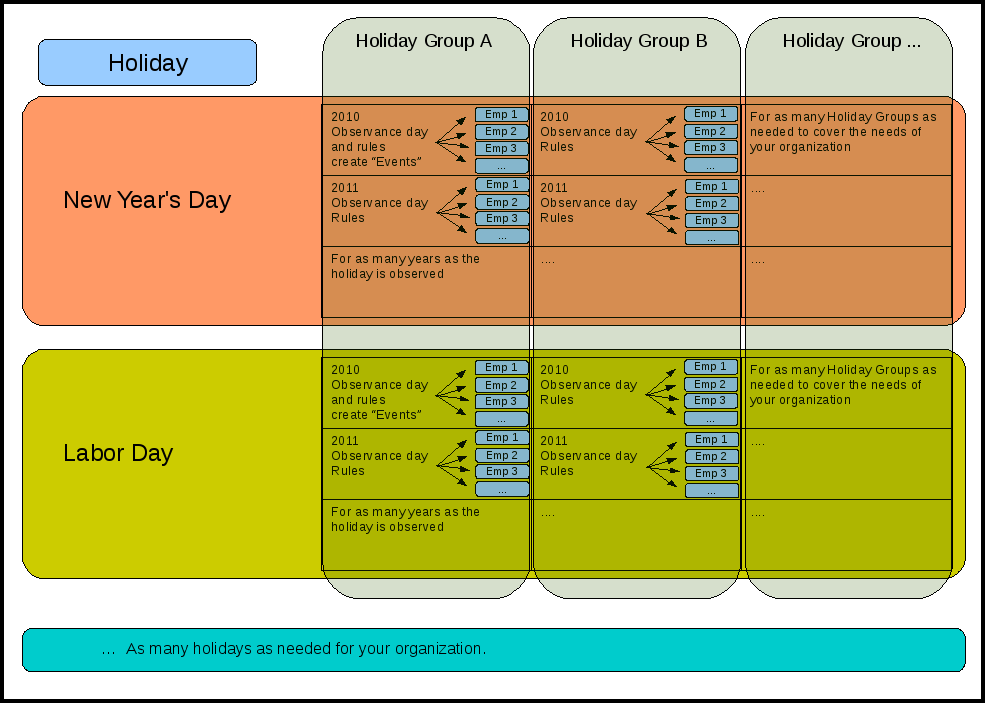 Each Holiday Group is connected to Holidays by Holiday Group Observances. The Holiday Group Observance defines the date of observance, payment parameters, and requirements to earn the holiday. The system uses that information to create Holiday Events which are the actual hours paid to the employee. The interaction of Holidays, Holiday Groups, and Holiday Group Observances to create Holiday events is also shown in the following diagram.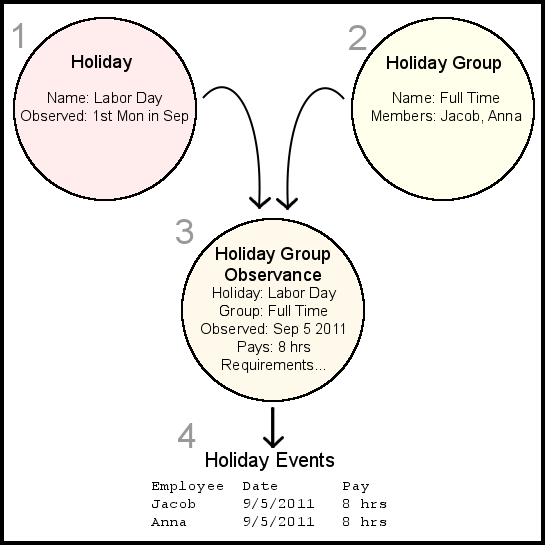 We define a holiday called Labor Day which occurs on the first Monday of September.
We have a holiday group called "Full Time" which has two members: Jacob and Anna.
We create a Holiday Group Observance for the Full Time group for Labor Day for 2011. We define that this observance will pay 8 hours and might also have additional requirements such as that the employee work the adjacent day before or after the holiday.
After the Holiday has passed the system automatically creates individual Holiday Events for each member of the holiday group. The earned/unearned status and hours paid can be edited on an individual basis.
©2004-2023 TimeIPS, Inc. All Rights Reserved - TimeIPS and the TimeIPS logo are registered trademarks of TimeIPS, Inc.
"Intelligent Personnel System" "Run your Business. We'll watch the clock." are trademarks of TimeIPS, Inc.
TimeIPS is protected by one or more patents. Patent No. US 7,114.684 B2.