---
Applies to versions: 2.3, 2.4, 2.5, 3.0, 3.1, 3.2
Default Job Report
The TimeIPS Default Job Report provides a way to see employees who are not working on their default job.
Using the left pane Main Menu » Administration, click on: Reports » Special Reports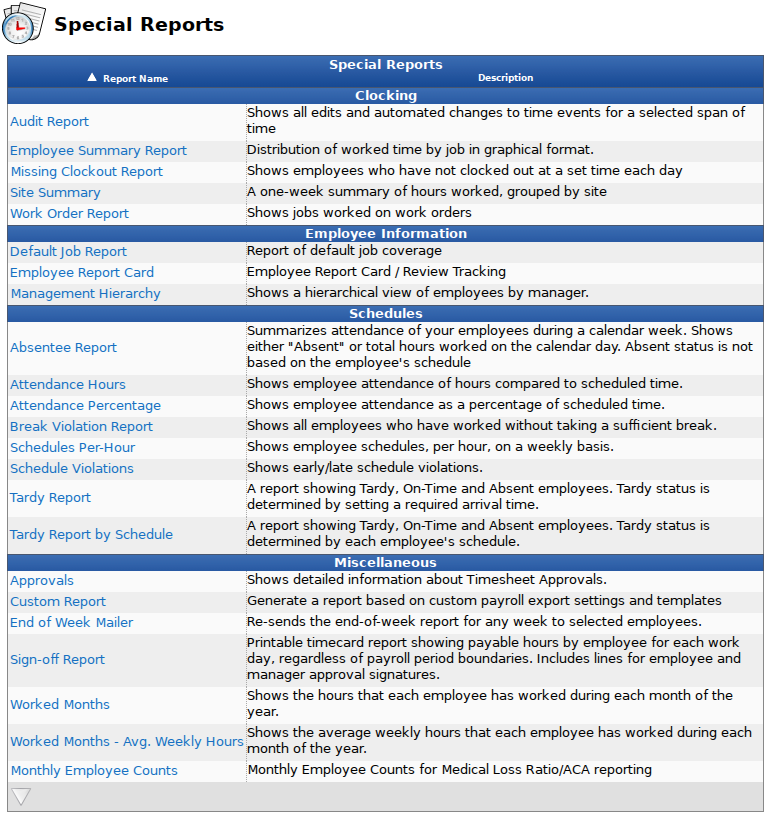 Special Reports provide information and data from the system beyond the standard Time Edit/Report. Select a report by clicking on the report name.
Under Employee Information, click on: Default Job Report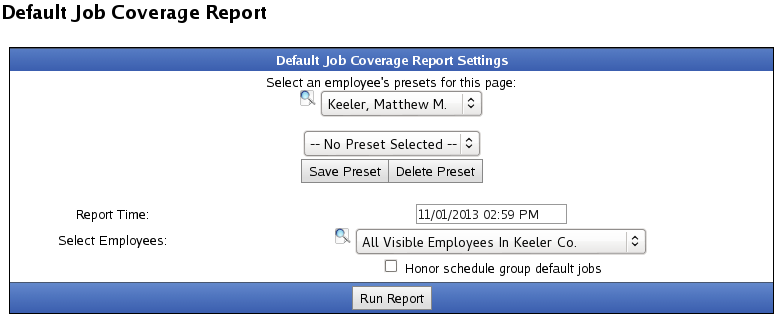 Optionally, Select an employee's presets for this page.

Select the employee from the drop down list.
From the next drop down list, select that employee's preset.

NOTE: A new preset can also be added by clicking the "Save Preset" button and saved as the default by clicking the "Make Default" button.
Select a Report Time on which the report will start.
Select Employees to filter which Employees you would like to see in the report. It works in conjunction with Employee Selection Groups, and your custom presets will appear in the list.
To Honor schedule group default jobs, check the adjacent box. Otherwise, leave it unchecked.
Click on the Run Report button.

The default job report will only list employees who have a default job or; if selected, the default schedule group job and if they are currently clocked out, or clocked into a job other than their default job. It will not show employees who do not have a default job set, or employees who are clocked into their default job.
©2004-2023 TimeIPS, Inc. All Rights Reserved - TimeIPS and the TimeIPS logo are registered trademarks of TimeIPS, Inc.
"Intelligent Personnel System" "Run your Business. We'll watch the clock." are trademarks of TimeIPS, Inc.
TimeIPS is protected by one or more patents. Patent No. US 7,114.684 B2.