Applies to versions: 2.3, 2.4, 2.5, 3.0, 3.1, 3.2
Monthly Employee Counts
The Monthly Employee Counts special report is intended to assist with calculating Medical Loss Ratio for the purpose of ACA compliance. The results table provides data for a given year regarding how many of your employees meet the definition of "full time" as well as how many of them are regarded as seasonal, and their respective hours.


NOTE: While the default expression for determining full time status uses the standard legal definition of full time (130 hours in a month ), we have no way to determine if an employee can be legally regarded as seasonal other than whether or not they are marked as such.
Using the left pane Main Menu » Administration, click on: Reports » Special Reports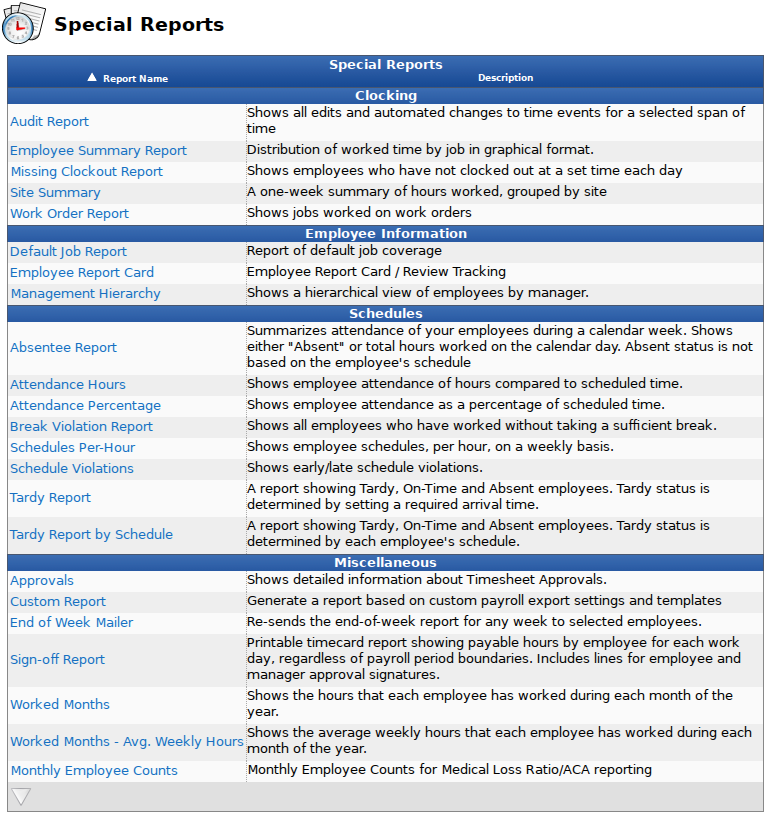 Special Reports provide information and data from the system beyond the standard Time Edit/Report. Select a report by clicking on the report name
Under Miscellaneous, click on: Monthly Employee Counts





Select employee group to filter which employees you would like to see in the report. It works in conjunction with Employee Selection Groups, and your custom presets will appear in the list.

The Manage link opens up the Selection Groups page where you can customize which employees to include in a preset group.



The Full Time/Part Time Calculation is processed using an expression. The default expression checks the total amount of time worked for every given month, and determines an employee to be full time if that employee has more than 130 hours in that month, part time if they have between 1 second and 130 hours in a month, and excluded if they have less than one second of worked time .
The default value for the Seasonal Employee Calculation determines an employee to be Seasonal if their status (as found on the employee admin page) is Seasonal.

NOTE: The Full Time/Part Time Calculation and the Seasonal Employee Calculation boxes come pre-filled with their default expressions. If you have run this report recently, it will display the last used expression. The expressions will revert back to their defaults upon logging out.
Click the Run Report button.
Monthly Employee Counts Report







Scroll through different months by using the Prev Year and Next Year links at the left and right of the date range.


You can also arrange in alphabetical or progressive order (highest to lowest / lowest to highest) by clicking on the header of a selected category.


To run the Monthly Employee Counts report again, click on the blue Back arrow at the top left corner.
This average only uses completed months. Months that have not finished or have not started are simply excluded.
See Also:
Payroll Export (2.2, 2.3, 2.4, 3.0)
Advanced Formatting for Custom Payroll (1.5, 1.6, 1.8, 1.9, 1.10, 1.11, 2.0, 2.1, 2.2, 2.3, 2.4, 2.5, 3.0, 3.1, 3.2)
Custom Reporting/Payroll Export Settings (2.3)