---
Payroll Types
TimeIPS uses Payroll Types to group employees with the same payroll period. Payroll will be run once for each Type. Time Reports and Special Reports may be viewed by Type.
Security Level Required: Employee Administrator or Payroll Administrator

Using the left pane Main Menu, click on: Administration » Payroll and Reports » Payroll Types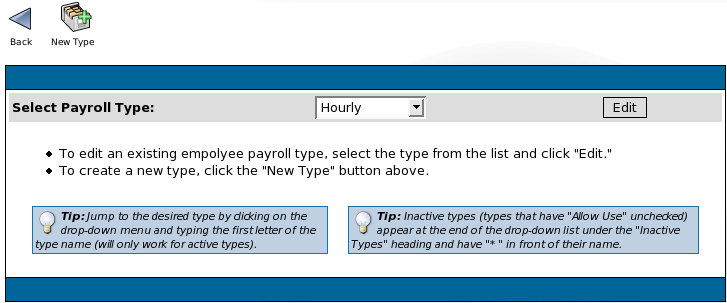 The Payroll Type Administration Page
To Add a Payroll Type:
Click on the New Type icon.

NOTE: All employees entered in the initial TimeIPS Setup default to the Payroll Type of "Direct". If the majority of your employees should be in one type, you can leave the type as Direct or edit the name to a more descriptive label for your company.
To Edit a Payroll Type:
Select the Payroll Type from the pull-down and click on the Edit button.



The Payroll Type Details Page
Adjust the information as necessary.
Click on the Submit button to save the changes.
See Also:
Modules/Upgrades
Adjust Work Week Settings
Run Payroll
Getting Started with TimeIPS
How Payroll is Calculated
©2004-2017 TimeIPS, Inc. All Rights Reserved - TimeIPS and the TimeIPS logo are registered trademarks of TimeIPS, Inc.
"Intelligent Personnel System" "Run your Business. We'll watch the clock." are trademarks of TimeIPS, Inc.
TimeIPS is protected by one or more patents. Patent No. US 7,114.684 B2.