Applies to versions: 2.3, 2.4, 2.5, 3.0, 3.1, 3.2
Approvals Report
The Approvals Report shows detailed information about Timesheet Approvals.
Using the left pane Main Menu » Administration, click on: Reports » Special Reports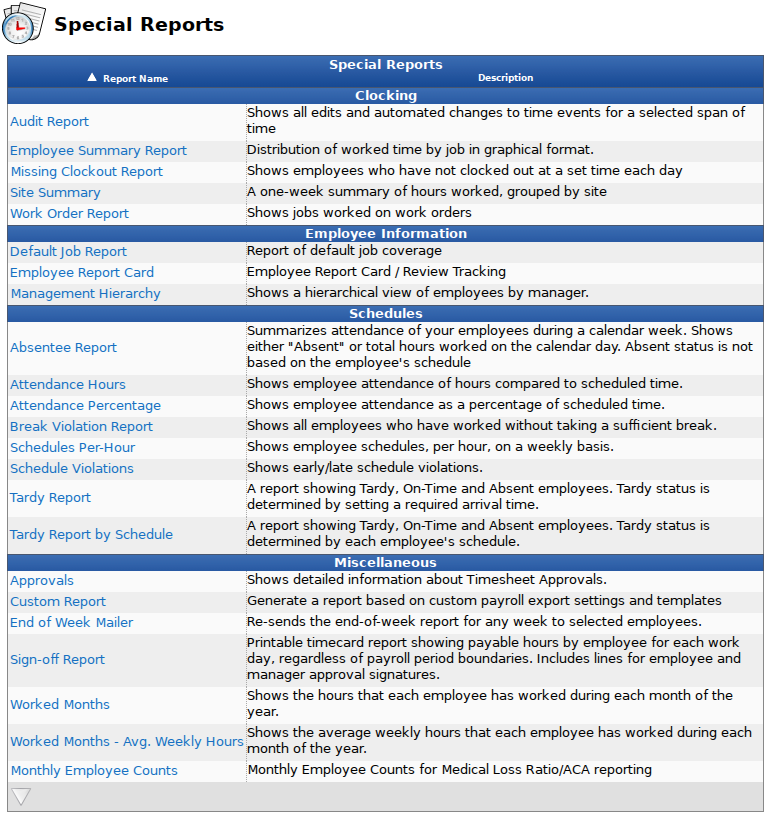 Special Reports provide information and data from the system beyond the standard Time Edit/Report. Select a report by clicking on the report name.
Under Miscellaneous, click on: Approvals







Select a Report Range: Choose either a predefined or custom time range in which to run the report.

Use the drop down menu to select a predefined range, such as "This week", "Last Month", and the current and last completed periods for your configured payroll types. You can use this selector to quickly access the most commonly used time ranges.
You can also select a custom date range using the From and To fields. Click on the field to display a calendar and then select the date. This field can also be edited in place so just click in the box and type over the displayed date and time.
Choose to Apply Date Filter To either the Date of Event or the Date of Approval.
Choose to Show approvals for either the "time worked by the selected employees" or "made by the selected employees".
Select Employees to be included in the report. It works in conjunction with Employee Selection Groups, and your custom presets will appear in the list.

NOTE: The

Manage link

opens up the Selection Groups page where you can customize which employees to include in a preset group.
Choose to Show for either Approvals, Unapprovals, or Forced Approvals..
Approvals Report
Showing for Unapprovals.

Approvals Report
Showing for Approvals.



To export a report and view it in a spreadsheet based program (such as OpenOffice), click on the grey arrow on the bottom left. Then either click the Export displayed rows or the Export all rows button.
See Also:
Timesheet Approval Options (2.0, 2.1, 2.2, 2.3, 2.4)
Timesheet Approvals (2.0, 2.1, 2.2, 2.3, 2.4)
Manage Employee Selection Groups (2.2, 2.3, 2.4, 2.5, 3.0, 3.1, 3.2)
Approvals Report (2.3, 2.4, 2.5, 3.0, 3.1, 3.2)